April – May 2009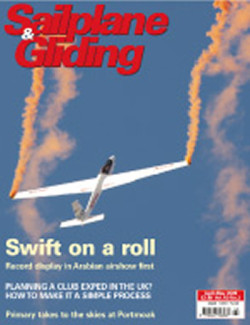 From setting a world record in the Arabian Desert to arranging the perfect club expedition in the UK, we've got it covered in the April/May issue of S&G.
When the CRH Swift Team took part in the sixth Al Ain Aerobatic Airshow, performing the first glider display in the region, the Arab hosts were endearingly perplexed by the glider – convinced that only magic could make it fly. Not only were they treated to a breathtaking aerobatic display, but also witnessed Guy Westgate's world record of 14 consecutive rolls, achieved during an inverted and rolling aerotow. That's over one minute of constant rolling!
A bit closer to home, veteran club exped organiser Ian Atherton shares his experience in making arranging an expedition in the UKsimple and effective. Find out how good planning and effective communication can really help club members expand their horizons.
John Henry took to the skies in a Primary at Portmoak, a mere 60 years since his last flight on type. Ian Easson was on hand to discover more about the syndicate behind this glider restoration project.
Moving from the past to the present, Jochen Ewald reports on new gliders from the 'big three' German glider manufacturers, all of which look likely to take to the air during this year. They are Schempp-Hirth's Arcus, Schleicher's ASH 30Mi and ASH 31Mi, plus the DG-1000.
Also in this issue: We report on the BGA Conference and AGM, which BGA Chairman Patrick Naegeli says cannot fail to have left people feeling more than a little motivated about the coming season. BGA Development Officer Alison Randle highlights key messages from the 2009 Chairmen's Conference and Treasurers' Forum. Lance Cole continues his entertaining tale of life Down Under as the gliding equivalent of a surf bum. Find out how Portsmouth Naval rose to the challenge when the CAA advised that any radio operator on the ground had to be certificated and approved formally as an air/ground operator. Peter Moorehead provides practical advice and reminders for all pilots, regardless of experience, on avoiding controlled airspace. Andrew Jarvis looks at the centenary of a significant aviation first for gliding. The Air League is also celebrating its centenary, and has great plans for the future – Andy Perkins talks about initiatives to encourage air cadets who have gone solo to join sport gliding. For John Sorrell, researching archaeological discoveries from a motor glider became an obsession – discover the perfect conditions to glimpse the past from above. Anglia Sailplane's Stu Hoy reports on an unusual university project involving an EA9 Optimist and a number of electric motors and, of course, S&G's Gliding Gallery features more of your fantastic pictures.
Summer soaring is just around the corner. Safe flying.
Susan Newby
Editor, Sailplane & Gliding
It's smart to share ideas
BGA Development Officer Alison Randle highlights some of the key messages from the successful 2009 Chairmen's Conference and Treasurers' Forum held at Kenilworth
Attendance high at AGM
There was a great turnout for this year's BGA Sporting Conference and AGM. Pete Stratten reports back on an informative and successful day
Three to watch out for…
Jochen Ewald reports on the German big three's plans for new gliders taking to the air in 2009
Al Ain is a desert delight
Aerobatic champion Guy Westgate reports on the CRH Swift Team's recent expedition to the sixth Al Ain Aerobatic Airshow in the Arabian Desert, to perform the fist glider display in the region (and to set a record)
The other Australia – part two, colours in the clouds
Lance Cole continues his tale of derring-do and derring-don't Down Under, in his quest to explore an alternative Australian aerial adventure as the gliding equivalent of a surf bum
Return to the skies
When Ian Easson heard that a Primary was on site at Portmoak and, what's more, had even been flying, he set out to investigate more about the syndicate behind this glider restoration project
Expand your horizons
Having flown at 50 gliding sites around the UK and regularly organised club expeditions over the past few years, Ian Atherton has put some notes together to aid those who might like to organise their own exped to other UK sites
Meeting the challenge
When the CAA advised that any radio operator on the ground at Portsmouth Naval needed formal Air/Ground Operator certification, Keith Morton called on his previous experience to train the club's 30-plus duty instructors
Avoid controlled airspace
Gliding operates in an increasingly complex airspace environment and there are increasing numbers of glider pilots flying cross-country. Peter Moorehead provides some practical advice and reminders for all pilots, regardless of experience
Soaring through a century
History was made in just under one minute on 27 June, 1909 when a glider built by José Weiss achieved a height gain of 10 metres. Southdown's Andrew Jarvis looks at the background of this gliding pioneer
Air League raises the bar
As it celebrates its centenary year, the Air League is making plans for the next 100 years. Much of its current work has a direct effect on gliding, reports Andy Perkins
Looking down on the past
Crop marks spotted during the long, dry summer of 1976 lay behind John Sorrell's 'obsession' with researching archaeological discoveries from a motor glider
The university challenge
The doubters said it would never fly, but they were proved wrong. Stu Hoy reports on a university project involving an EA9 Optimist and a number of electric motors
Also in this issue:
BGA news; your letters; news on the 2009 Vintage Glider Club national rally being held at Gransden Lodge; Tailfeathers; Gliding Gallery; obituaries; club gallery; club focus – Oxford; club news
Subscribe by direct debit now to save 50% on your subscription
Subscribe Now