April – May 2012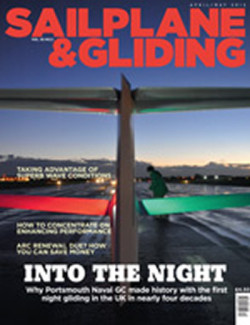 Find out what made the first Saturday in January such a stunning wave day in Wales in the April-May issue of S&G, where you can also read how Portsmouth Naval GC made history with the first night gliding in the UK in nearly four decades. There are also top tips on how to save money on your ARC renewal.
The winter months have provided opportunities for some great wave flights around the country. On 7 January, members at Dorset GC took advantage of wave, albeit weak; something that has happened only a few times in the 20 years the club has operated from Eyres Field. That same day, pilots in Wales were busy logging numerous wave flights on the BGA Ladder. Phil King looks at what made it such a stunning wave day, with reports from the Welsh border gliding clubs.
Portsmouth Naval Gliding Centre's CFI Andy Durston's first experience of night flying (in a Tucano) was something he has never forgotten. Wanting to share this experience with others, Andy started investigating how to get a glider airborne at night to combine the magic of night flying with the pleasure of silent flight. Overcoming numerous hurdles, Andy turned the dream into reality on 27 January with the first night flying in the UK since the late '70s.
If you own a glider, or are part of a syndicate, you will need to renew the Airworthiness Review Certificate (ARC) each year. For many, the process seems steeped in mystery. One option is to pay a maintenance organisation to handle it all for you. Now on his third ARC renewal, Chris Lewis has come up with some top tips on how to save money by doing some, if not all, of the work yourself. As well as saving time and money, you can also benefit by getting to know your glider better. Probably the most safety-critical possession you have, an in-depth knowledge of your glider could prove a lifesaver.
The safety of a flight depends to a large degree on the ability of the pilot to concentrate until the glider is back on the ground (or even better, back in the hangar). The necessary level of concentration depends on the various stages of a flight, whether you are local soaring, flying cross-country or competing. Bernard Eckey, author of Advanced Soaring Made Easy, explains how the pilot who is able to concentrate in a focused way while blocking out distractions can enhance performance and is well prepared for success and safety.
Also in this issue: New BGA Chairman Pete Harvey thanks Patrick Naegeli for an 'awesome six years' and highlights his own plans on improving access to our 'wonderful, secret sport'. BGA Development Officer Alison Randle explains how working together in local groups can provide vital support for clubs. Alan Lapworth continues a series of articles on waves in the atmosphere with a look atstanding waves. Justin Wills shares fond memories of 'a Last Hurrah'. Dennis Pasco reveals how he was able to bag all three legs of his Silver in one flight. Schempp-Hirth President Tilo Holighaus shares his first impressions of flying the Quintus M. Writer Rebecca Loncraine tells how she overcame her fear of flying. The comps committee provides some background to the 2012 BGA competition rules. Hugh Browning reports on the safest year for winch launching since at least 1974. There's coverage of the BGA Sporting Conference and AGM, plus details of the 2011 BGA trophy winners. Lasham's Glyn Bradney describes how one of the UK's mostactive vintage groups came into being. Plus, there is another selection of stunning images on the Gallery pages.
Fly safely and have fun.
Susan Newby
Editor, Sailplane & Gliding
Clubs discovering safety in numbers
Alison Randle explains how working together in local groups can provide vital support for clubs
Gliding into the night
Portsmouth Navel Gliding Centre made history on 27 January 2012 with the first night flying in the UK in nearly four decades. CFI Andy Durston reports
Standing waves
Alan Lapworth looks at waves that can enable you to reach great heights in a smooth and relatively safe environment
A last hurrah!
Justin Wills shares some fond memories of a recent trip back to the UK to glide and keep up with friends, old and new
Concentrate
Bernard Eckey explains how focusing on the right thing at the right time enables you to enhance your performance
Silver: Dennis got it in one
It was third time lucky for Dennis Pasco, who got all three legs of his Silver in one flight
ARC renewal
Chris Lewis tells you how to save money and sleep at night, unravelling the mystery of this annual process
Quintus M: first impressions
Schempp-Hirth President Tilo Holighaus shares his first impressions of the Quintus M, commenting on the 'wonderful agility' of the self-launching 23m-span glider
Winter wave
Recent winter months have shown again the fantastic potential of Welsh Wave. Phil King looks at what made the first Saturday in January such a stunning wave day
Overcoming a fear of flying
Writer Rebecca Loncraine tackled her fear of flying head on and discovered a passion for gliding
Comp rules 2012
The BGA comps committee provides some background to the 2012 BGA competition rules
BGA safe winch launch initiative: first six years
Hugh Browning reports on the safest year for winch launching since at least 1974
BGA conference
The weather again obliged for this year's Sporting Conference and AGM (it rained) as 300 pilots gathered in the Nottingham Belfry to be educated and amused
Also in this issue:
BGA news; your letters; Gliding Gallery; obituaries; club gallery; club focus – Shenington; club news; vintage gliding news; BGA badges; incident and accident summaries
Subscribe by direct debit now to save 50% on your subscription
Subscribe Now