April – May 2017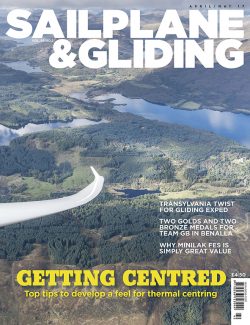 Team GB took on the world in Australia and won. Read about the two Golds and two Bronze medals in the April/May issue of S&G, which also features top tips on developing a feel for thermal centring in an article aimed both at newcomers and established cross-country pilots. Plus, you can discover why the miniLAK FES is simply great value.
The British gliding team returned from the Benalla Worlds with the Team Cup, a new Open Class World Champion and two Bronze medals. It was a close fought competition in sometimes less than ideal conditions, but one where team flying paid dividends. Peter Sheard reports on the Worlds from a crew perspective, with pilots sharing their highs and lows from Australia.
Centring thermals can prove a challenge, not just for the newcomer, but also for established cross-country pilots if conditions are less than ideal. In the second part of the Ask the Coach series on thermal centring solutions, Tony Cronshaw talks to leading coach G Dale and 11 times world champion Sebastian Kawa about developing a feel for centring.
The prospect of landing out is not likely to deter your cross-country plans if you are flying the miniLAK FES. Swedish pilot Mikael Roslund travelled to Lithuania to fly this 13.5m Class glider. Designed not with Open Class pilots in mind, but more as a leisure tool for pilots looking for a 'feel good flight', the miniLAK FES is reported to be a concept offering great value for money. Since it flew for the first time in 2015, 15 gliders have been sold; two are destined for the UK.
Justin Wills discovered gliding with a Transylvanian twist when he realised a dream to visit Romania. Arriving after a four-day drive, Justin and his wife, Gillian, were amazed at the interest they generated by arriving with their glider in tow. Locals left flowers and hampers at the airfield to show their appreciation of the visit. Although unusually bad weather meant that the trip was as much a social and cultural experience as a flying one, the Romanian gliding community reminded Justin of the real strength and resilience of those with the urge to soar.
Also in this issue: Neville Almond provides a short update on Kobo/XCSoar developments since his article in the Oct/Nov issue. Finnish pilot Timo Nurminen suggests a comp task for increased safety and a focus on individual flying. Ron Linton looks back at a dramatic introduction to gliding in the Lake District in 1962, and events that led him back to the sport. Roy G has a grand day out. Graham Wadworth extols the virtues of welcoming a TV company to film at your club. There's a report and lots of pictures from the 2017 BGA Conference. BGA development officer Alison Randle looks at giving people more of what they want. Bruce Stephenson reflects on the historical impact of gliding. Paul Candler describes an idea for handicapping task distances for a fairer competition. Plus there are many more of your stunning images in the Gallery pages.
Fly safely and have fun
Susan Newby
Editor, Sailplane & Gliding
Ways to get that feeling
Tony Cronshaw talks to leading coaches G Dale and Sebastian Kawa about techniques to help us develop a feel for thermal centring
Winning ways
Peter Sheard introduces the Worlds from a crew perspective, with pilots sharing their highs and lows from Australia
Click here for Peter Sheard's full report on the Worlds
Low-cost nav aid solution: part 2
Neville Almond returns with a short update on Kobo/XCSoar developments since his article in the Oct/Nov 16 issue of S&G
Don't follow the leader!
Finnish pilot Timo Nurminen returns from the Worlds with a suggested task for increased safety and a focus on individual flying
In Paddy's footsteps
Justin Wills fulfils a dream to visit Romania and discover if it's an Elysium for gliding
Reflection on Lakes gliding
Ron Linton looks back at a dramatic introduction to gliding in the Lake District in 1962, and events that led him back to gliding
Joys of this gliding lark
Roy G (PW to his friends) reflects on 'another case of having my backside handed to me on a plate by Wilson'
The Wolds Way
Graham Wadforth extols the virtues of welcoming a TV company to film at your club
Simplicity: the miniLAK FES
Mikael Roslund travels to Lithuania for a test flight of the miniLAK FES and enjoys its easy handling, both on the ground and in the air
BGA conference
Glider pilots from around the UK (and overseas) enjoyed the annual BGA Conference and AGM at the Nottingham Belfry on 25 February
A silent role
Bruce Stephenson reflects on the historical impact of gliding
Fairer distance handicapping
Paul Candler describes an idea for handicapping task distances for a fairer competition
Click here for a more detailed description of the task
We can learn about FLARM from that…
An incident report submitted to the BGA highlights how FLARM information can lead a pilot to misidentify the potential threat under certain criteria
Also in this issue:
BGA news; your letters; Gliding Gallery; Club Gallery; Club Focus – Wyvern; development news; club news; obituaries; BGA badges; instructor ratings; incident and accident summaries
Subscribe by direct debit now to save 50% on your subscription
Subscribe Now