April-May 2019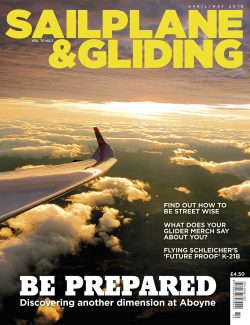 Would you like to be street wise, or find out what your gliding merch says about you? Read the April/May issue of S&G, which also reveals what it is like to fly Schleicher's K-21B and the discovery of another dimension at Aboyne.
Keen glider pilots have a way of peering at the sky, facial expressions full of wonder and promise when the sky is lit up with cu – or with streets. Why do streets form on breezy days and what flying tactics are needed to exploit these excellent lines of energy? In the latest Aim Higher article, Tony Cronshaw talks with coach Kevin Atkinson for some expert advice.
When Amy-Jo Randalls started gliding, aged 15 and four-foot-something tall, she found it impossible to buy clothing to show off her new obsession. As an artist (check out 'pilot with a paintbrush' on Facebook), Amy-Jo started designing her own merchandise, sold through the Redbubble website. This has led her to observe that no matter where in the world an item goes, people buy the same products for the same gliders. So what does your gliding merch say about you?
With stiff opposition from new training gliders, Schleicher's makeover of its K-21 came at the perfect time for Lasham, about to order its third K-21. So is this facelift enough to keep the K-21 as 'the number one trainer'? Lasham's DCFI, Jordan Bridge, reports some very favourable first impressions. Swedish EGU delegate Robert Danewid has also flown the K-21B and says that it has become an even better trainer.
After two weeks of flying in wave at Aboyne, Tomasz Cebo felt that his feelings were perfectly summed up by words from Jean-Marie Clément in his book Dancing with the wind: "Then the pilot will discover that there is another way to fly a glider, another dimension, and the doors will open to big flights, to his great pleasure and that of his passenger…" Tomasz praises Aboyne as a great place for trying wave for the first time, as well as getting Diamonds or doing cross-country flights one can talk about over a pint forever.
Also in this issue: BGA Chairman Andy Perkins focuses on the B word and preparing for the start of the season. Winners of the BGA trophies for 2018. Neil Goudie has 10 top tips for gliding under a future airspace environment. Tim Macfadyen shares a legendary tale of an epic aerotow retrieve. Flight Deck Wingman's Andrew Neofytou explains how he can help glider pilots land their dream airline job. Ebenezer Grimshaw breaks taboos, dispels myths and restores reality for newbies. Justin Wills reflects on a summer of expeditions, first stop Romania. The BGA safety team starts a new series of articles, starting with rigging accidents. There's a report and lots of pictures from the 2019 BGA Conference. BGA development officer Alison Randle looks at what we can do to celebrate volunteers. There's a spread of stunning vintage photographs. Polly Whitehead explains Yorkshire GC's award-winning ground training initiative. And there are many more of your stunning images in the Gallery pages.
Fly safely and have fun
Susan Newby
Editor, Sailplane & Gliding
How to be street wise
Tony Cronshaw talks to Aim Higher lead coach Kevin Atkinson about the tactics needed to exploit lines of energy
Click here to read the full article Learn the basics to exploit streets, from S&G Dec 15/Jan 16
K-21 gets makeover
DCFI Jordan Bridge reports on Lasham's first impressions of its new K-21B trainer
Looks like a K-21 – flies like a K-21
Sweden's Robert Danewid got to fly the K-21B last summer and shares his first impressions
Maintaining our record
Gliding under a future airspace environment – here's how you can help by following these 10 top tips from Neil Goudie
Mon dieu! The longest day
Tim Macfadyen shares a now legendary tale of the aerotow retrieve of a huge and heavy Caproni from Luxembourg
Gliding is asset to airline job
One of the Junior Nationals sponsors was Flight Deck Wingman. Founder Andrew Neofytou explains how he can help glider pilots into their dream job on the flight deck
What they didn't tell you – advisory 10: how to get your five hours
Ebenezer Grimshaw continues to break taboos, dispel myths and restore reality for newbies
Five in one
Justin Wills reflects on a summer of expeditions, first stop Romania
The perils of distraction
Introducing a new series from the BGA safety team, with a focus on avoiding rigging accidents
An expression of your love?
Amy-Jo Randalls reveals what your gliding merch says about you (and her struggles as a small female pilot)
Aboyne: another dimension
Tomasz Cebo explains why, for him, there is no place like Aboyne
A day to inspire
Glider pilots from around the UK (and overseas) enjoyed the annual BGA Conference and AGM at the Nottingham Belfry on 2 March, 2019
Vintage beauty
S&G publishes a selection of excellent vintage photographs recently submitted
It's grounds for success
Polly Whitehead explains the ground training initiative that has recently won Yorkshire Gliding Club a BGA best practice award
Also in this issue:
BGA news; opinion; your letters; Gliding Gallery; Club Gallery; Club Focus – Midland; development news; club news; BGA badges; instructor ratings; obituaries; incident and accident summaries
Subscribe by direct debit now to save 50% on your subscription
Subscribe Now