April – May 2021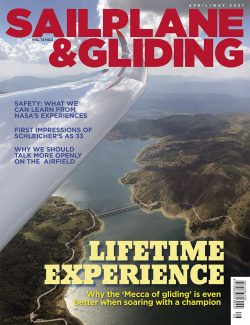 Find out what gliding has in common with NASA and why one pilot decided to spend his retirement fund on Schleicher's AS 33 in the April/May issue of S&G. You can also read about a lifetime experience soaring with a champion in the 'Mecca of gliding', plus why it's time the topic of mental health stops being taboo in aviation.
As we look forward to returning to the skies, safety should be at the forefront of our minds. Some have not flown at all for many months, so take time to check everything and carefully manage risks. The term 'normalisation of deviance' was coined in the aftermath of the 1986 Space Shuttle Challenger disaster. It is one of the main reasons that gliders end up in trees and overhead cables. The BGA safety team looks at gliding incidents caused by the normalisation of deviance and what we can learn from NASA's experience. After all, once their rocket fuel was spent, the Space Shuttles were all gliders.
Andrea Venturini is an Italian pilot, who learnt to glide at Portmoak. Still a relative newcomer to the sport, Andrea has been busy fitting in as many experiences as possible. One that he classes as the experience of a lifetime was soaring in an Arcus with Italian champion Alberto Sironi during the 2020 Coppa Internazionale Del Mediterraneo in Rieti. Andrea first read about Rieti in a copy of S&G that he found in Portmoak's clubroom and was delighted to find himself flying amongst world champions in the 'Mecca of gliding'. Nicknamed 'the Englander' at his local club in Tuscany, Andrea still returns to fly in Scotland when possible.
It's not every glider pilot that can afford to buy a new glider (the rest of us can but dream), but Jon Gatfield found himself in the fortunate position of having available funds as retirement beckoned. This presented Jon with the significant question of which one, but he considers himself a slave to brand loyalty and has owned several Schleicher gliders over the years. The Ventus 3 and JS3 offered many attractions, but Jon ultimately made the decision to stick with Schleicher and invest in the AS 33. Jon said: "They haven't made a poor flapped glider yet. I really rate the engineering quality of their work and an addiction to pies, peanuts and Pilsner means the roomy Schleicher cockpit suits me best." Jon was able to visit the Alexander Schleicher factory twice and saw his glider mid-manufacture. Zulu Glasstek's Pete Wells reveals the trials and tribulations of bringing Jon's AS 33 back to the UK in the midst of Covid and Brexit challenges.
If one positive can be taken from the pandemic it is the growing awareness of the impacts of poor mental health and how to get help. For many, gliding is an escape, a time to mentally disconnect from the stresses of day to day life and soar away from it all. Some individuals who previously claimed not to understand mental health have had a rude awakening experiencing anxiety, panic attacks and depression brought on through the uncertainty and disruption caused by coronovirus and the resulting lockdowns, let alone the restrictions on flying. Joey Beard has been a Mental Health First Aider since 2016. She explains why glider pilots should talk more openly on the airfield. Recognising mental health issues on the airfield is tantamount to club welfare, and can range from an anxious first flight participant to a stressed tug pilot. Are you confident you could recognise signs of a problem and intervene appropriately, without causing offence or, worse, a scene at launch point? The answer is probably no. Joey explains how Mental Health First Aiders have an action plan which is beneficial in navigating the awkwardness.
Also in this issue: BGA Chairman Andy Perkins eagerly anticipates a spring of vigour and sunshine. Ed Downham is in the spotlight for our pilot profile. Herrie ten Cate talks to Bernard Eckey in a tribute to Hans-Werner Grosse. Nigel Pringle reflects on his landout from heaven or hell. Geoff Catling introduces RAF Shawbury. Colin Rudling looks back on an American exercise for D-Day gliders, which took place in West Sussex. John Symonds swaps his usual K-6 for a Spitfire. Steve Schuler reflects on a terrifying solo that saw him sucked up into a thundercloud. Ebenezer Grimshaw uncovers another area of murky gliding horror for newbies. Kevin Atkinson discusses his law on water as the force multiplier in the thermal factory. Alison Randle looks at local planning challenges. Pete Stratten reports on ongoing changes for UK gliding. Mike Fox shares a snippet from his book Soaring Adventure. Andrew Jarvis reports on vintage gliding. Plus many more of your stunning images in the Gallery pages.
Fly safely and have fun
Susan Newby
Editor, Sailplane & Gliding
A leap of faith
Jon Gatfield explains why he chose to spend his retirement funds on Schleicher's AS 33
Bringing home a new glider
Zulu Glasstek's Pete Wells, UK distributor for Schleicher, reveals the trials and tribulations of importing a glider in the midst of Covid and Brexit challenges
Pilot profile: Ed Downham
Those who know Ed Downham have tremendous respect for his tenacity and ability to wheedle the best out of a day. Ed loves exploring and pushing his personal boundaries, which has resulted in an impressive list of UK records, flown in EB28 '13' and, previously, an ASW 27
A tribute: Hans-Werner Grosse
Herrie ten Cate talks to Bernard Eckey following the death of gliding legend Hans-Werner Grosse in February
Click here to read two S&G interviews previously conducted with Hans-Werner Grosse
It was a long, long retrieve
Nigel Pringle recounts a tale from the eighties and explains why you should ensure you are the least competent pilot in your syndicate
Introducing RAF Shawbury
Geoff Catling reports on Wyvern Gliding Club's move to RAF Shawbury
Head in the clouds
Mental Health First Aider Joey Beard dispels myths and advises glider pilots to talk more openly
War exercise for landings
Colin Rudling looks back on an American training exercise for D-Day gliders, which took place at Dial Post in West Sussex
Click here to read the full story
Flying with ghosts
John Symonds swaps his usual K-6 for a Spitfire during a lifetime experience at Biggin Hill
Experience of a lifetime
Andrea Venturini explains why Rieti, hailed as 'the Mecca of gliding', is even better if soaring with a true champion
It's written in magic marker
Steve Schuler reflects on a terrifying solo that tested his courage and training as he was sucked up into a thundercloud
Click  here for links to Steve's blog
What they didn't tell you – advisory 18: how the other half live
Ebenezer Grimshaw advises newbies how to regard gliding royalty and their superships
Atkinson's law on outsourcing the thermal factory output
Kevin Atkinson investigates in the fourth part of his article
Working for a simple future
The BGA's Chief Executive, Pete Stratten, reports on ongoing changes for UK gliding
Leaving home
Mike Fox shares a snippet from the 'flying away from home' chapter of his recently published Soaring Adventure book
VGC's honour for historian
Martin Simons is awarded an Honorary Life Membership of the Vintage Glider Club, reports Andrew Jarvis
Eroded margins
What have gliders got in common with NASA? The BGA safety team looks at incidents caused by the normalisation of deviance
Also in this issue:
BGA news; opinion; your letters; Gliding Gallery; Club Gallery; Club Focus – Bowland Forest; development news; news; BGA badges; obituaries; incident and accident summaries
Subscribe by direct debit now to save 50% on your subscription
Subscribe Now