August – September 2009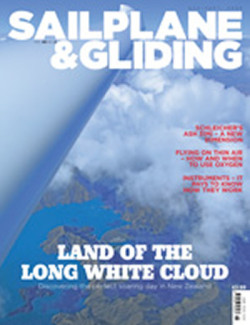 Find out why it pays to know how aircraft instruments work and how and when to use oxygen in the August-September issue of S&G. You can also read about discovering the perfect soaring day in New Zealand and see stunning photography captured on a day of superb visibility in the UK recently.
In the first of a series of articles, Steve Longland looks at the ASI, which despite its name doesn't measure airspeed as such. Although aviation-related pressure instruments don't lie (as long as they are undamaged), they may not always be telling you quite what you think, or want. If only for self-protection, it pays to know how they work and what they're really measuring.
With increasing numbers of expeditions to the continent and further afield, where exceptional wave conditions develop, more pilots are having to consider the types of onboard oxygen systems, as well as how and when these systems are used. Junior doctor and glider pilot Aki Inaba investigates how much we really know about oxygen and gliders.
John Marsh experienced the perfect soaring day in the stunning landscape of New Zealand, land of the long white cloud, during a mountain-flying course. Closer to home, Steve Lynn and Ed Downham enjoyed a 650km flight recently from Dunstable. Steve's stunning photography captured the superb visibility that gave the impression of flying in South Africa rather than Northamptonshire.
Jochen Ewald got his hands on Schleicher's ASH 31Mi and says that it is a glider that gives you a lot of fun, combining the advantages of the 18m and the Open Class with the self-launching abilities of a strong and smooth-running reliable engine. With a 21m span, it fits in to a 'standard' trailer, while its performance is said to be not far below that of the big Open Class superships.
Also in this issue: BGA Chairman Patrick Naegeli says the timing is right for the BGA to consider and confirm what specific goals it should be looking to achieve over the next three to five years. BGA Development Officer Alison Randle shares six top tips for positive action that clubs can take to weather the recession. Derek Piggott comes under the spotlight in the Platypus Interviews. Loek Boermans continues his series on how recent aerodynamic developments at Delft University are being applied in high-performance sailplanes. Devin Giddings reports back from the Pribina Cup, the world's biggest gliding competition, but largely ignored in the UK. There are more tips for those new to gliding in the second article in a series from Mike Fox. BG Chief Executive and CAMO Accountable Manager Pete Stratten explains what glider owners need to know to comply with Part M and stay airworthy. Four young pilots from Rattlesden, who shared the Caroline Trust Cadet of the Year title, talk about how the grants have helped them concentrate on flying rather than worrying about the money.
Fly safely and have fun.
Susan Newby
Editor, Sailplane & Gliding
Feeling the crunch, or is it business as usual?
BGA Development Officer Alison Randle talks about positive action that clubs can take to weather the recession
Schleicher's ASH 31Mi – a new dimension
Jochen Ewald discovers that, although it comes with a 21m span, the ASH 31Mi can fit in to a 'standard' trailer, while its performance appears to be not far below that of the big Open Class superships
The shape of things to come, part two
Loek Boermans continues his series on recent aerodynamic developments at Delft University and how they are being applied in high-performance gliders
Epic gaggles in cup challenge
Devin Giddings takes time out from crewing for two UK pilots competing in the Pribina Cup to report back from the world's biggest gliding competition
Accurate basic handling
BGA National Coach Mike Fox offers more tips and advice for those new to gliding in the second article in his series
'Newbie' files
S&G editor Susan Newby starts lessons at Gransden Lodge, home of Cambridge GC
Land of the long white cloud
John Marsh discovers the perfect soaring day in the stunning landscape of the land of the Aotearoa, Maori for long white cloud – the spectacular lenticular that sits over the Southern Alps
Flying on thin air
Just how much do we really know about oxygen and gliders? Aki Inaba investigates
Instruments – it pays to know how they work
Steve Longland explains why it pays to know how aircraft instruments work and what they are really measuring. In the first of a series of articles, Steve looks at the ASI, which despite its name doesn't measure airspeed as such
Part M – how to stay airworthy
With the majority of gliders now transitioned to EASA certification, Pete Stratten explains what glider owners need to know to comply with Part M
Helping hand – grants boost cadets' flying
Teamwork and enthusiasm resulted in four young pilots sharing the Caroline Trust Cadet of the Year title. The Trust's Dave Martin explains why it was impossible to choose between a group that's been a great benefit to its club
Also in this issue:
BGA news; your letters; a spectacular setting for The Air League young members' flying day in its centenary year; The Platypus Interviews – Derek Piggott; Gliding Gallery; obituaries; club gallery; club focus – Booker; club news
Subscribe by direct debit now to save 50% on your subscription
Subscribe Now