Aug-Sept 2017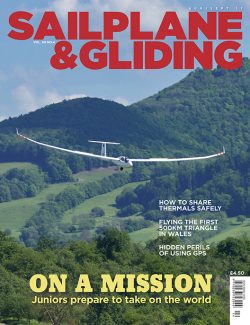 From flying the first 500km triangle in Wales to the hidden perils of using GPS, you can read about it in the Aug/Sept issue of S&G. There are top tips on successfully sharing thermals, and you can also find out how the UK Juniors are preparing to take on the world
The notion of flying a 500km FAI triangle in Wales came to Dominic Haughton after a flight in 2013 that included a 150km run from Lampeter to Snowdon with the help of sea breeze fronts. A bit of work with SeeYou over the winter of 2014/5 produced about half a dozen 500km triangles round existing turnpoints. Then it was a matter of waiting for the right conditions and the introduction of two new turnpoints. In April this year Dominic achieved his goal.
Do you rely on GPS when flying cross-country? It just works, doesn't it? Well, most of the time it does, but David Innes asks how do we know our GPS position is good when we get signals. Flying from Aboyne, which is further north than a US GPS satellite flies, David is used to the possibility of poor satellite geometry reducing accuracy or preventing a fix. He explains some potential pitfalls and advises us not to stake our life on GPS.
In early August, the UK Juniors representing Great Britain will be competing against top pilots from 16 countries in the Junior Worlds, being held in Lithuania. The team recognised from the start that to achieve success would require an intense training programme. Mike Gatfield, flying in the Standard Class, reports on how the team has been training for success, from winter weekends maximising performance of the gliders and getting used to team flying with new partners, to competing alongside world champions, current and former British team members in the UK and overseas.
Sharing a thermal with other gliders means we can locate and exploit lift more quickly, but flying in close proximity with other gliders is very demanding. Learn how to share thermals safely with the latest Ask the Coach feature, where Tony Cronshaw talks to Mike Fox and Kevin Atkinson about the techniques needed to mitigate the risk of collision.
Also in this issue: Alison Randle introduces reports from a close-fought Women's Worlds. Bernard Eckey looks back over 90 years of Schleicher. Pilots reflect on the benefits of Aim Even Higher in the Alps, exploring safe mountain flying with help 'on location'. David Griffiths explains how, and why, he went from Bronze to Diamond in just 12 months. Ebenezer Grimshaw breaks taboos, dispels myths and restores reality for newbies. BGA development officer Alison Randle looks at why volunteering matters to gliding. Andrew Jarvis reports from the 2017 VGC National Rally at Aston Down. Russell Walsh reports on the 578 Squadron Association reunion, complete with Spitfire fly-past, hosted at Burn GC. Satnav makes for an interesting retrieve in France for some Oxford GC members. Diana King raises awareness of the BGA Planning and Environment Fund. Learn from other's incidents and accidents with a focus on fitness to fly. Pete Stratten provides an update on EASA regulatory developments. And there are many more of your stunning images in the Gallery pages.
Fly safely and have fun
Susan Newby
Editor, Sailplane & Gliding
How to share thermals safely
Tony Cronshaw talks to leading coaches Mike Fox and Kevin Atkinson about techniques needed to mitigate the risk of collision
Tight margins at Zbraslavice
Alison Randle, media manager for Team GB at the Women's Worlds in the Czech Republic, introduces reports from the pilots
How to eat a dragon…
Dominic Haughton reflects on how he achieved the first 500km FAI triangle to be flown in Wales
Celebrating 90 years
Schleicher agent Bernard Eckey looks back over a 90-year history of the company's glider manufacture
Learn to fly in the mountains
Aim Even Higher in the Alps gave pilots a chance to explore safe mountain flying with the benefit of help 'on location' at fantastic gliding sites
What a year! Bronze to Diamond in 12 months
When David Griffiths set his heart on a Shark eS, he needed to quickly increase his flying hours and qualifications before its delivery date
On a mission: UK Juniors prepare to take on the world
Mike Gatfield explains how the team is training for success
What they didn't tell you – advisory 1: having faith
Questions ab initios want to ask… but never dare to! Ebenezer Grimshaw breaks taboos, dispels myths and restores reality for newbies
Hidden perils of using GPS
Do you rely on GPS when flying cross-country? Well, it just works, doesn't it? David Innes highlights some potential pitfalls
Cotswold's grid of many colours
Andrew Jarvis reports from the 2017 VGC National Rally, Aston Down
Spirit lives on
Spitfire fly-past is a moving highlight of 578 Squadron Association reunion hosted by Burn Gliding Club, reports Russell Walsh
Strategic allies
BGA Chief Executive Pete Stratten provides an update on the latest EASA regulatory developments
Also in this issue:
BGA news; your letters; Gliding Gallery; Club Gallery; Club Focus – Southdown; development news; club news; BGA badges; instructor ratings; learning from accidents; incident and accident summaries
Subscribe by direct debit now to save 50% on your subscription
Subscribe Now