Aug-Sept 2020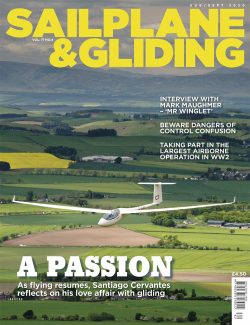 It has been said that the best lift this year was the lifting of lockdown! Santiago Cervantes wasted no time, with two 500km tasks in one flight from Portmoak on 6 July. In the Aug/Sept issue of S&G, Sant reflects on his love of gliding and why he loves the Highlands. There's also an interview with the man behind the design of your winglets, plus a look at the dangers of control confusion.
Sant Cervantes' love affair with gliding has so far lasted for over 52 years. He has flown in remote parts of the world, but the Scottish mountains are now on his doorstep – about as remote as you can get within the British Isles. Scotland has a sky that "provides succour to my soul". Soaring is a voyage of discovery, says Sant, not only of our surroundings but of ourselves. He loves the isolation. When flying in wave, he says: "The forces in play are immense and the wave clouds have a stunning beauty and grace. In your glider you are but a speck in this infinite expanse."
If you fly a relatively modern glider, look at its wingtip. If it has a winglet, glider pilot Mark Maughmer probably had something to do with it. His winglet designs are on hundreds of production gliders around the world. A lifetime of contributions to the world of aerospace has been recognised by the American Institute of Aeronautics and Astronautics with the 2020 AIAA aerodynamics award. Mark says his aim is not just to make things work, but also to make them pretty. He approaches engineering like an artist and says: "these highly swept polyhedral platforms are a good example of me at work".
Accident reports continue to describe the same control confusion errors over the years, with more than 70 gliders damaged, including six destroyed, since 1974. Ten pilots have been injured: one fatally and one seriously. Despite a decline in gliding over this period, the accident rate from control confusion has not fallen significantly. Sadly, we still don't have a proper solution. The BGA safety team looks at the dangers and offers advice to help you avoid cockpit muddles.
Brian Latham was one of 1,500 RAF pilots transferred to the Glider Pilot Regiment. Originally wanting to fly Spitfires and Mustangs, they soon found that the Glider Pilot Regiment was considered a 'corps d'elite' on a par with the commandos and special forces. They were taught to ride motorcycles, drive jeeps and 15cwt trucks, Bren gun carriers, handle explosives, fire all types of small arms and be able to man a six-pounder anti-tank gun. This made them capable of operating with any of the troops they carried into battle. Brian recounts his story of taking part in the Rhine Crossing, the single largest airborne operation in WW2.
Also in this issue: BGA Chairman Andy Perkins is delighted that the social heart of clubs has grown stronger. Bill Mudge goes on safari in the back seat of an ASH 30 Mi. Adrian Morgan reflects on a positive approach taken at Easterton. Holly Harris features in our pilot profile. Suzannah Forbes overcomes her nerves for a first solo. Ebenezer Grimshaw uncovers another area of murking gliding horror for newbies. There are tributes to Colin Pennycuick and John Williamson. Ron Smith tells the tale of an unexpected 20-hour retrieve. Jan Forster looks at the history of T-31s in Ghana. Kevin Atkinson discusses his law on reverse engineering the sky. Rod Witter relates a furloughed flyer's tale. There are book reviews for the latest version of Advanced soaring made easy and True Gliding. Alison Randle looks at finding strength in adverse times. Pete Stratten reports on adjusting for the way ahead. Plus many more of your stunning images in the Gallery pages.
Fly safely and have fun
Susan Newby
Editor, Sailplane & Gliding
Interviewing 'Mr Winglet'
The Thermal Podcast's Herrie ten Cate talks to Mark Maughmer, who was recently awarded the 2020 AIAA aerodynamics award for his work
Going on safari
Bill Mudge jumps at the chance of a soaring safari in the back seat of an ASH 30 Mi
Support for an early solo
New members can be hard to find and easily discouraged. Adrian Morgan reflects on the positive approach taken at Easterton
Pilot profile: Holly Harris
Falling in love with gliding at 14, Holly flies most weekends, weather permitting. Financial support from the Caroline Trust and the Air League has helped her to progress her flying and she looks forward to becoming an instructor so she can see others become 'bitten' by the gliding bug
My role in the 'corps d'elite'
The Rhine Crossing was the single largest airborne operation in WW2. Brian Latham was one of 1,500 RAF pilots transferred to the Glider Pilot Regiment following the heavy losses at Arnhem
Facing up to flight fears
Suzannah Forbes overcomes her nerves as she takes her first solo flight at Wyvern GC
What they didn't tell you – advisory 14: the right kind of confidence
Ebenezer Grimshaw uncovers yet another area of murky gliding horror for newbies
A tribute: Colin Pennycuick
Anthony Edwards reflects on some of Colin Pennycuick's memorable CUGC gliding exploits
A tribute: John Williamson
Gliding recently lost another of its legends with the death of 'John Willie', inventor of the John Willie Calculator and mentor to many young glider pilots
They thought it's all over…
Settling down for a nightcap at the club, a phone call heralds an unexpected 20-hour retrieve. Ron Smith tells the tale
A passion for gliding
Santiago Cervantes reflects on a love affair with gliding and why he chooses the Highlands
Where are the missing T-31s?
Jan Forster looks at the history of Slingsby T-31s in Ghana and seeks information on what happened to them after the 1960s
Atkinson's law on reverse engineering the sky
Kevin Atkinson reflects on the fictitious one-knot thermal
A furloughed flyer's tale
Rod Witter tells of the happenings at Lleweni Parc during lockdown, taking an unexpected opportunity to rethink and reinvest in club operations
Adjusting for the way ahead
An update from BGA CEO Pete Stratten
Cockpit muddle
The BGA safety team highlights danger of control confusion
Also in this issue:
BGA news; opinion; your letters; Gliding Gallery; Club Gallery; Club Focus – Derby & Lancashire; development news; news; BGA badges; obituaries; incident and accident summaries; AAIB bulletin
Subscribe by direct debit now to save 50% on your subscription
Subscribe Now