Aug – Sept 21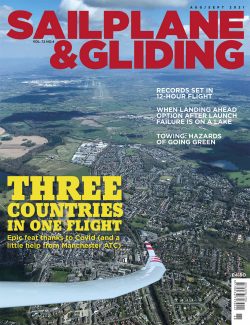 Rising to a challenge led to a flight visiting three countries in one day, starting and finishing from the same airfield. Read about this in the Aug/Sept issue of S&G, which also reports on when one pilot's only option was to land on a lake. Find out about a record-breaking 12-hour flight, and the impact of the green revolution on towing gliders.
When a flight over England and Wales was suggested, Chris Gill thought he may as well cross the border into Scotland before heading for home. The 580km task, Lleweni Parc-Crewe East-Gretna Service-Crewe East-Lleweni Parc, looked straightforward in Denbigh's Arcus; the only issue would be navigating airspace. The forecast showed enough promise on 16 April and Chris was able to complete the task with Chris Bowden. An epic feat over three countries, thanks to the quiet times resulting from Covid and a little help from Manchester ATC.
Oystein Bjorklund was on his way to do a 350km task in comfortable soaring conditions, but minutes later found himself sitting on the wing of his Discus in a lake being towed sideways ashore by a boat. The lake is 650 feet down the extended centreline at the end of the runway at Oystein's club in Norway. When the tug had engine problems at 130ft, his first impulse was to turn the glider around and force it back towards the airfield. This would not have ended well. Oystein believes that visualising landing straight ahead into the lake each time he goes through pre-flight checks is the only reason he was able to make the right choices that day.
In March, French pilots Baptiste Innocent and Gil Souviron broke two European Open Class records in Gil's Stemme S12. Using a remote start/finish, they flew two out-and-return legs from the Mediterranean, along the Pyrenees and back. On the final leg, they flew 80km out over the Mediterranean Sea. The flight lasted 12-hours; the two had prepared well mentally and had the right gear to combat freezing temperatures. Spanish and French air traffic control were also helpful due to decreased traffic. Baptiste said: "We were alone in the world. Over the sea. That was crazy, but the sun was behind us, it was 6pm and the temperature was minus 35 degrees. I was freezing cold, but it's magic."
As electric cars start to become the norm, what impact will this have on gliding – specifically towing gliders? John Watkinson explains that the bigger the tow vehicle, the longer it takes to charge. Towing a glider, you might spend as long charging the car as driving it when you would rather be flying. This may be an academic problem, because a car towing a glider won't fit in a charging bay. Need a retrieve? With an electric car you can forget it. As things stand there is no viable electric solution for towing a glider.
Also in this issue: BGA Chairman Andy Perkins welcomes the weather and more freedom of movement. Benjie Ambler is in the spotlight for our pilot profile. Pete Stratten looks at the impact of UK airspace changes. Chris Basham and Craig Lowrie pay tribute to Dick Dixon. Andrea Venturini talks to top Italian pilot Alex Busca about his love of long-distance flights. How LX Nav's HAWK enables real-time wind indication. Chris Lewis reflects on a last flight before lockdown. Paul Fritche reviews G Dale's latest book The Soaring Engine Volume 4. Ebenezer Grimshaw probes the evil that lurks under the surface for newbies and for the more experienced. Kevin Atkinson investigates the thermal factory catalyst. Dave Martin explains how enhancing an airfield's environment for wildlife can attract grants. Alison Randle looks at life after a pandemic. Pete Stratten reports on a world of moving goalposts. Joey Beard reports on the 621 VGS Historic Flight. John Archer shares a tale of how things never go as expected when landing out. The BGA safety team looks at how gliders with retractable engines can avoid field landing accidents. Plus many more of your stunning images in the Gallery pages.
Fly safely and have fun
Susan Newby
Editor, Sailplane & Gliding
Three countries in one flight
Wales-England-Scotland-England-Wales. Never one to refuse a challenge, Chris Gill completes this 580km task with Chris Bowden in Denbigh's Arcus
Pilot profile: Benjie Ambler
At just 18, Benjie is an instructor and tug pilot at his home club, Burn. He was sent solo on his 14th birthday and, at 15 – too young for solo cross-country – Benjie decided to try aerobatics. He became Intermediate champion in the 2018 Glider Aerobatic Nationals
Records set in 12-hour flight
Herrie ten Cate talks to Baptiste Innocent following a record-breaking 12-hour flight in a Stemme S12, which included 80km out over the Mediterranean Sea
Shared skies
Pete Stratten looks at the impact of UK airspace changes
Dick Dixon
In a tribute to the late Dick Dixon, we reproduce an interview Chris Basham conducted for BWND's Glide Angle in 2016
Enthusiasm to share passion
A tribute to Dick Dixon from Southdown Gliding Club's chairman Craig Lowrie
Alex Busca
Andrea Venturini talks to one of Italy's top pilots about his love of long-distance flights and gliding ambitions
Hazards of going green
With electric cars soon to become the norm, John Watkinson looks at the impact of the green revolution on towing gliders
The wind: where is it blowing from?
LX Nav's HAWK uses a new way for its varios to better measure what the air is doing around us in flight, providing real-time wind indication
Click here for the full story
Absolute joy to be flying
Chris Lewis reflects on a heavenly final flight before lockdown with Mark Robinson
Training matters
When landing ahead after a launch failure, it doesn't matter if it's on a lake as long as you have prepared for this before every flight. Oystein Bjorklund reports
Book review
Paul Fritche reviews G Dale's book The Soaring Engine Volume 4
Advisory 20: Check flights
Ebenezer Grimshaw probes the evil that lurks under the surface for newbies… and for the more experienced
Atkinson's law on outsourcing the thermal factory output
Kevin Atkinson investigates the thermal factory catalyst
Help wildlife to help clubs
Dave Martin explains how clubs can enhance their airfield's environment for wildlife, while also attracting grants
Juggling act
BGA CEO Pete Stratten reports on a world of moving goalposts
Wooden era is kept alive
Joey Beard tells the story of the Historic Flight that sparks nostalgia from the thousands that benefited from gliding scholarships
So near and yet so far…
Bidford GC's John Archer shares a tale of how things never go quite as you might expect when landing out
The trouble with turbos
The BGA safety team looks at how gliders with retractable engines still have field landing accidents, and what to do to avoid them
Also in this issue:
BGA news; opinion; your letters; Gliding Gallery; Club Gallery; Club Focus – Banbury; development news; news; BGA badges; obituaries; AAIB bulletin; incident and accident summaries
Subscribe by direct debit now to save 50% on your subscription
Subscribe Now