December – January 2010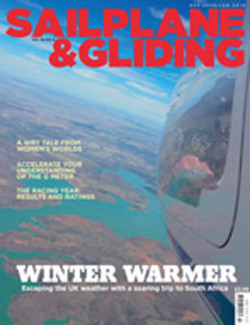 If you fancy winter flying fun in the sun, or want to accelerate your understanding of the G meter, take a look in the December-January issue of S&G. You'll also find the annual round-up of competition results and ratings.
As our front cover shows, when it's winter in the UK, it's summer in South Africa. This was the appeal for Alan Munro, a latecomer to the sport, who was struggling to find the time (and weather) to progress his gliding. Soaring alongside Lappet-Faced Vultures in Bloemfontein, Alan achieved 40 hours in two weeks and came away with a Diamond goal.
We take a look at some of 2009's highlights, including Jochen Ewald's report and pictures from the VGC Annual Rally in Germany;competition flying at all levels – from a regionals debut to competing in the Women's Worlds, not forgetting Competition Enterprise for those who prefer a more relaxed approach to traditional competition flying; plus the annual round-up of competition results and ratings.
Steve Longland helps us accelerate our understanding of the G meter – particularly helpful if you are planning aerobatic flights, when it is beneficial to be aware that, although indicated G may be within acceptable limits during a rolling, high-G, high-speed pullout (not recommended!), parts of the structure could be teetering on the edge of theirs. Steve also looks at the Turn and Slip, suggesting that the best way to find out about the T/S is to use one – out of cloud first!
In November, it was great to see so many dedicated and capable volunteers at the BGA Chairmen's Conference/Treasurers' Forum. Delegates were met with some stark safety messages, but there were also many positive stories ranging from initiatives to grow participation in the sport to how to further reduce our carbon footprint and cut fuel bills by converting a standard gliding toilet block into a shiny new 'green' one.
Also in this issue: BGA Chairman Patrick Naegeli acknowledges Chris Wills' contribution to gliding and asks whether we can all put the same energy and drive into ensuring safe gliding. BGA Development Officer Alison Randle talks about the Junior strategysowing the seeds for future pilots. S&G editor Susan Newby sees Peugeot's new 3008 launch a Junior at Snitterfield and talks to Andy Sutton – Peugeot's PR director and also an instructor at Stratford on Avon – about why the club was the perfect venue for a press launch. Andy Perkins reviews scholarship options. BGA Chief Executive and CAMO Accountable Manager Pete Stratten looks at the changes to the BGA Airworthiness Organisation now necessary under its Part M approvals. Liz Sparrow and Tim Milner report on the North and South Comp-ette. Kerry Mertz looks at the gliding career of Nene Valley's Roger Morrisroe, celebrating a staggering50 years as an instructor. Mike Jefferyes reports on this year's Inter-League finals.
Season's greetings and safe landings.
Susan Newby
Editor, Sailplane & Gliding
Junior strategy sowing seeds for future pilots
The fact that, as a population, glider pilots are getting older has not passed unnoticed by the BGA Executive Committee. Alison Randle looks at recent developments to encourage more young people to take up gliding
Sharing the vision
Stark safety messages awaited delegates at the Chairmen's Conference and Treasurers' Forum on 14 November, but there were also many positive stories, including initiatives to grow participation in the sport. Alison Randle reports
Instruments – G meter and T/S
In the third part of a series on how aircraft instruments work and what they are really measuring, Steve Longland takes a look at the G meter (accelerator) and the Turn and Slip (T/S)
Szeged: Women's Worlds
Fantastic team flying by the British Women's team achieved some outstanding results in the Worlds. Ayola Liran tells a wry tale of how to lose a competition after leading all the way
VGC annual rally 2009
More than 100 vintage gliders, 204 pilots from 19 countries, and some excellent weather, resulted in a successful and enjoyable 37th Vintage Gliding Club Annual Rally at Achmer. Jochen Ewald reports
Launched into the spotlight
From a YouTube debate to a feature in The Sun, the Peugeot launch at Snitterfield created significant interest in both the club and gliding. S&G editor Susan Newby was there
Make it happen
Are you motivated, but strapped for cash? Then why not consider a scholarship. Andy Perkins reviews the options.
Part M impact
Pete Stratten describes changes to the BGA Airworthiness Organisation now necessary under its Part M approvals
Taking part is what counts
After seven years of spending the last week of August at the Gransden Regionals, soaking up the atmosphere and working her way up from rope runner, Emilie House made her competition debut
Escaping winter in South Africa
Struggling to find the time (and weather) to progress his gliding, Alan Munro left the UK winter behind him to fly at Bloemfontein during the South African summer and experienced gliding of a quality dreams are made of
North South Divide
The great north/south divide was put to the test in a grudge match – sorry competition development event – run at both Lasham and Pocklington. Participants experienced some splendid flying and useful trace analysis, but which side won? Liz Sparrow and Tim Milner report
Enterprising
James Fisher's first experience of Competition Enterprise surpassed his own expectations from a flying point of view and refined the boundaries of what he thought was achievable
Gold Service
Nene Valley CFI Roger Morrisroe is celebrating 50 years as an instructor. Kerry Mertz looks back over his gliding career
Top of League
Essex & Suffolk were this year's winners of the 2009 Inter-League trophy. Mike Jefferyes reports
Ratings and comp results
Listing of the top 300 competition pilots in the UK, and a round-up of regionals and nationals results for the year
Also in this issue:
BGA news; your letters; Tailfeathers; Gliding Gallery; obituaries; club gallery; club focus – East Sussex; club news; BGA Badges; incident and accident summaries
Subscribe by direct debit now to save 50% on your subscription
Subscribe Now