December – January 2014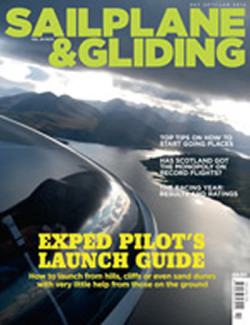 If the thought of launching from hills, cliffs or sand dunes with little help from those on the ground is appealing, you need to read the Dec/Jan issue of S&G. In it you can find about an expedition launch system that costs less than £1,000 and can fit in the back of your retrieve vehicle. If you are looking to acquire new cross-country flying skills, we have top tips from two coaches on how you can start really going places. The issue also features tworecord flights from Scotland and the annual round-up of results and ratings.
Pete Whitehead's launch system is ideal for experienced expedition glider pilots looking for spontaneity, to be able to go when the conditions are right and aiming for 100 per cent success. He developed and perfected launch methods using his bungeys and modified autotow system while expedition flying in the northern Lake District and Yorkshire Dales. Pete's article includes comprehensive lists of what you need for the bungey system and modified autotow system, with detailed descriptions on use.
The sort of flying Pete is talking about is at the challenging end of the spectrum, but if you are looking to acquire or improve cross-country flying skills, the second article in S&G's Ask the Coach series is essential reading. Tony Cronshaw asks two leading coaches – Bernard Eckey and Kevin Atkinson – for top tips on how to start going places, including how to choose a route and what speed to fly between thermals.
Read and absorb that valuable advice and then set your sights on matching (or beating) the outstanding record flights achieved from Portmoak on 10 September by Santiago Cervantes and John Williams. Santiago was struck by the difference in the two pilots' perspectives of the same day and has used their reports as an indication of therecord opportunities that are available in this land of wave soaring opportunity. So does Scotland have the monopoly on British record flights?
Now the LAPL medical is becoming established, pilots are starting to think seriously about conversion. Dr Frank Voeten is the BGA LAPL medical adviser and has written an article for S&G offering advice on the steps required to get your LAPL medical certificate. Is licence conversion a painful process? You can find out with feedback from a selection of glider pilots with new EASA medicals and licences.
Also in this issue: Tim Scorer offers top legal tips to those buying or selling a glider. Shaun Lapworth talks to theteam at LXNAV responsible for some of the most advanced soaring instruments available today. Julia Robson reports from the inaugural cadet soaring competition at Bicester. Charlie Jordan, Matt Davis and Oli Barter share their experiences from the Junior Worlds in Poland. Mike Bond explains how he won the Northerns at the age of 70, twenty-five years to the day that he last lifted the cup. There are four pages of results from BGA-rated UK competitions, plus the announcement of the BGA provisional ratings list. Neil Frost reviews Jim Richards' book The Road to Narromine. Bruce Stephenson reports on the last two events in the 2013 vintage season. Dr Tony Segal reflects on his early investigations into energy-absorbing safety cushions. Last, but not least, there are many more of your stunning images in the Gallery pages.
Fly safely and have fun
Susan Newby
Editor, Sailplane & Gliding
Pilot feedback on conversion
Is licence conversion a painful process? People with new EASA medicals and licences recount their recent experiences to BGA Chief Executive Pete Stratten
How to get a LAPL medical
Dr Frank Voeten offers advice on the steps required to get your LAPL medical certificate
Going places
In the second article in a series aimed at those acquiring new skills, Tony Cronshaw asks two leading coaches for top tips on how to start going places
Time to buy or sell a glider?
Tim Scorer offers some top legal tips to buyers and sellers for a smooth process
A land of opportunity
Has Scotland got the monopoly on records? Santiago Cervantes reflects on this land of wave soaring opportunity following two record flights, both flown from Portmoak on 10 September 2013
LXNAV: a story of innovation
Shaun Lapworth talks to the team from Slovenia behind some of the most advanced soaring instruments available today
Challenging and fun
Cadets from four clubs gathered at Bicester to take part in an inaugural cadet soaring competition. Julia Robson reports
Leszno: 2013 Junior Worlds
Charlie Jordan, Matt Davis and Oli Barter reflect on their experiences at the 8th Junior World Gliding Championships in Leszno, Poland
Cup déjà vu
Mike Bond last lifted the Northern Gliding Championship Cup in 1988. Twenty-five years later, he was handed it again, at the age of 70
The expedition glider pilot's guide to launching
Edensoaring's Pete Whitehead explains how you can have your own bungey system plus modified autotow system for under £1,000
The racing year: results and ratings
Four pages of results from BGA-rated UK competitions, plus the announcement of the BGA provisional ratings list
Only dummies ignore facts
Dr Tony Segal reflects on his early investigations, using manikins, into heavy landing, spinal injury and seating foam
Also in this issue:
BGA news; your letters; Gliding Gallery; obituaries; club gallery; club focus – Stratford on Avon; club news; BGA badges; incident and accident summaries; AAIB bulletinr
Subscribe by direct debit now to save 50% on your subscription
Subscribe Now