Dec-Jan 2023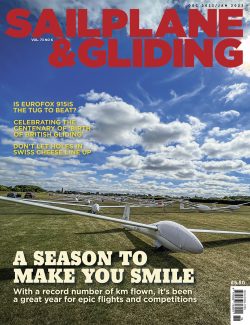 From 750km in a dry LS3 to all three legs of a Silver completed in an Oly 2B, you can read about some of the exceptional achievements this season in the Dec/Jan issue. There's also a report on celebrating the centenary of the birth of British Gliding, flight tests on the EuroFOX 915iS, plus important safety advice so you don't let holes in the Swiss cheese line up.
There have been a record number of kilometres flown in 2022 and many great competition days. Among the exceptional flights was John Roberts' 750km flight from Hus Bos in an LS3 without water ballast. John explains that this impressive flight would have been much harder without the help of his wife, Fran, and pilots at Hus Bos. Fran had spent days telling John they should plan for the good day forecast for 5 August, but John thought 750km in an LS3 in August was unlikely. A late change of heart the evening before resulted in last-minute flight planning and childcare logistics that enabled John to complete his task with a big smile on his face.
Dave Unwin also found something to smile about while testing the EuroFOX 915iS from both ends of the tow rope at Saltby. Dave says that, just as with sailplanes there's no such thing as too much span, with a tug there is no such thing as too much horsepower and the extra power of this 140hp tug was a revelation for him. He has flown quite a few different tugs over the years, but Dave was left thinking that nothing comes close to the performance of the EuroFOX 915iS.
Tug and sailplane technology has come a long way since 1922, when the Daily Mail launched a gliding competition with a prize of £1,000 for the person who could stay up the longest. Itford Hill, near Lewes, was chosen as the location and the event was a great success despite gloomy October weather. For much of the week Britain was winning, but Frenchman Alexis Maneyrol managed a flight of three hours, 21 minutes and seven seconds in a bizarre Peyret Tandem to take the prize. The competition is cited as the 'birth of British Gliding' and the VGC marked its centenary with a colourful rally at Ringmer.
The idea that accidents often require the coincidence of several contributory factors is illustrated by psychologist James Reason's 'Swiss cheese model'. Holes will always occur, but well-designed safety systems ensure that other defences will block them. The BGA Safety Team looks at an astonishing accident which saw a flight captain partially sucked out of the windscreen aperture when a cockpit window detached, which illustrates the importance of the management environment.
Also in this issue: BGA Chairman Andy Perkins looks back at a year of fantastic success stories and highlights the role gliding can play in sustainable aviation. Dan Hender is in the spotlight for our pilot profile. Jasmine Day completes all three legs of her Silver in an Oly 2B. Grimshaw reveals the shocking truth about trim tabs. Kevin Atkinson talks terminology. Adrian Morgan reflects on the realities of glider ownership. Andy Carden reports how an Aim Higher course has given York members a new confidence. Nic Beretta flies with the vultures. Ray Hart has a field landing from Hades. There are four pages of results from BGA-rated UK competitions, plus the announcement of the BGA provisional ratings list. Two book reviews: Understanding the sky and Walking with a friend in the dark. Alison Randle looks at what makes a club resilient. Pete Stratten explains why consultations need your help. Plus, many more of your stunning images in the Gallery pages.
Fly safely and have fun
Susan Newby
Editor, Sailplane & Gliding
Pilot profile: Dan Hender
Seventeen-year-old Dan Hender has been hooked on gliding since a visit to an open day at Devon & Somerset Gliding Club when he was nine. A few years later he was big enough to reach the pedals and he hasn't looked back since, progressing his cross-country and aerobatic skills
A wooden Silver
Jasmine Day 'does it the hard way' completing all three legs of her Silver in Oly 2B, Speedwell 2, flying from Nene Valley
Extra power is a revelation
Test flights of the EuroFOX 915iS leave Dave Unwin thinking nothing comes close to the performance of this 140hp tug
So, who needs water ballast?
There have been some exceptional flights recently, including 750km in a dry LS3. John Roberts tells the tale
Advisory 28: At last… the shocking truth about trim tabs
Grimshaw finally goes where no flyer… and certainly no newbie… should ever venture
Atkinson's law: Terminology
Kevin Atkinson explains why it's not what you say, but what your listener understands by what you say
Misty-eyed view
Adrian Morgan reflects on the realities of glider ownership, but regrets nothing
Seek a higher state of mind
Andy Carden reports how an Aim Higher course has given York members a new confidence to achieve their goals
Flying with the vultures
Nic Beretta takes time out of a fundraising hike through the Pyrenees to experience gliding from Santa Cilia and achieves a number of firsts
Those magnificent men of Itford Hill
VGC President Andrew Jarvis reports on a rally marking the centenary of a competition cited as the 'birth of British Gliding'
Field landing from Hades…
Ray Hart reflects on an 'industrial grade string of events' that started with a landout during his first regionals comp
The racing year
Four pages of BGA-rated UK competition results and the provisional 2022 ratings list
Book reviews
Two titles reviewed in time for your Christmas wish list: Understanding the sky, by Dennis Pagan; and Walking in the dark with a friend, by Martin Roberts
Consultations need your help
BGA CEO Pete Stratten highlights potential impacts on gliding
Swiss cheese
The BGA safety team looks at an astonishing accident that illustrates the importance of the management environment
Also in this issue:
BGA news; opinion; Gliding Gallery; Club Gallery; Club Focus – Peterborough & Spalding; development news; news; BGA badges; obituaries; incident and accident summaries
Subscribe by direct debit now to save 50% on your subscription
Subscribe Now