December – January 2013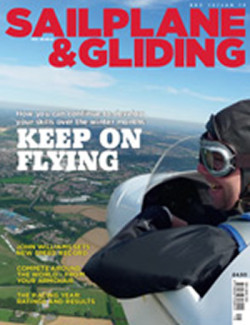 Despite some of the worst weather on record, there have been some fantastic achievements, including a new speed record set by John Williams and Andy Bardgett leading the race for the best UK height gain in 2012. Read about these flights and discover ways you can continue to develop your skills over the winter in the December-January issue of S&G, where you will also find the annual round-up of results and ratings.
In what has been a lean year for wave, John Williams wasted no time when wave was forecast on 29 September, flying his Antares 20E from Portmoak and setting a new 300km out-and-return speed record at 166.88km/h. John suggests it can still be done faster and recommends a trip to Portmoak to give it a go yourself. "Even on a short winter day will do," he says.
A month earlier, Andy Bardgett contacted wave and climbed to 24,000ft above Wooler in his LS4b, giving him a total height gain of over 22,300ft. At the time of writing, this was the greatest height gain on the National Ladder and Andy is hoping it will stay that way.
While those at wave sites have a potentially busier soaring year, for many of us there is a winter period when soaring options are in short supply. However, the winter months can present some great opportunities to develop skills and knowledge, particularly for those relatively new to the sport and those who like to be prepared. Pete Stratten's article may also remind more experienced pilots of the fun there is to be had.
When the weather is really bad, how about competing around the world, or experiencing the glider you have always wanted to fly, from the comfort of your own armchair? Tony Lintott shares his experience of hosting a Monday night internet competition at Hus Bos last winter, with advice on how to host your own online Condor competitions.
Also in this issue: Pete Stratten explains the importance of everyone understanding the issues before making a transition to EASA pilot licensing. Mike Gatfield reports from the Junior Nationals, described as one of the most fun comps in years. Bernard Eckey offers more soaring tips, explaining how our mood can affect our performance during a flight. Justin Wills reflects on a five-hour flight in the Rhonbussard that was the pride and joy of his brother, the late Chris Wills. Mike Bird looks back to gliding 50 years ago. Charlie Jessop reflects on his first Competition Enterprise. David Weekes reports from the 40th VGC International Rally. John Clegg reviews the second edition of Steven Longland's book Gliding: From passenger to pilot. BGA Development Officer Alison Randle looks at how clubs can make the most of winter months and reports from the 2012 Club Management Conference. Vintage gliding news includes a report on the Slingsby Rally and a look ahead to the 2013 Wenlock Olympian Games. And there are more of your stunning images in the Gallery pages.
Fly safely and have fun
Susan Newby
Editor, Sailplane & Gliding
Pilot transition and the Approved Training Organisation
It's imperative that everyone understands the issues before making a transition to EASA pilot licensing, medical or training requirements. BGA Chief Executive Pete Stratten explains
Winter flying (from your armchair)
How do you keep members focused over the winter? Tony Lintott explains how to host online Condor competitions
Juniors 2012
Mike Gatfield reports from the 2012 Junior Nationals at Lasham, described as one of the most fun comps in years, and says 'the Juniors are back'
Get the feel good factor
Bernard Eckey explains how our mood can affect our performance during a flight
The legacy
Justin Wills reflects on a five-hour 220km flight in the Rhonbussard that was the pride and joy of his brother, the late Chris Wills
1962: Beatles and Beetles
Mike Bird waxes lyrical about the year in which he won his first (and only) competition
A highlight of my flying year
Charlie Jessop reflects on his first Competition Enterprise
Keep on flying
Soaring options in short supply? Pete Stratten highlights ways you can continue to develop your skills over the winter
Vintage fun
David Weekes reports from the 40th VGC International Rally, held this year at Pociunai, Lithuania
A record breaker
When wave was forecast on 29 September, John Williams flew his Antares 20E from Portmoak, setting a new O/R speed record with a 319.1km flight at 166.88km/h
Getting high
Andrew Bardgett is leading the race for the best UK height gain in 2012 with a climb to 24,000ft above Wooler in his LS4b, giving him a total height gain of over 22,300ft
The racing year: results and ratings
Four pages of results from BGA-rated UK competitions, plus the announcement of the BGA provisional ratings list
Club Management Conference
Creative thinking and benefits of shared experience were a focus of the Club Management Conference at Warwick University on 17 November. Alison Randle reports on the day, which saw the introduction of a CFI Forum in addition to the Treasurers' Forum
Also in this issue:
BGA news; your letters; Gliding Gallery; book review; obituaries; club gallery; club focus – Shalbourne; club news; vintage gliding news; BGA badges; incident and accident summaries; AAIB report
Subscribe by direct debit now to save 50% on your subscription
Subscribe Now