December – January 2022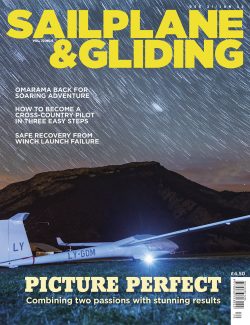 Want to become a cross-country pilot in three easy steps, or venture further afield to Omarama for a soaring adventure? Find out how in the Dec/Jan issue of S&G. You can also read how one pilot combines two passions to achieve picture perfect gliding images. Plus, how training will enable safe recovery from failure at any stage of a winch launch
A Netherlands gliding club has been using a program developed by a group of enthusiastic Canadian pilots to successfully encourage members to go cross-country. Frank Schellenberg explains that Proving Grounds consists of three elements: three club-specific tasks, ranging from 50-150km; an automatic scoring bot; and a Top Gear-style scoring board. Pilots new to cross-country are introduced to terminology, navigation, turnpoints and use of flight computers. There is next to no administration required from overburdened members of the club, and pilots are soon challenging others or attempting to beat their own times.
Already an experienced cross-country pilot and seeking a soaring adventure? We were delighted to learn that the spectacular New Zealand location of Omarama is back in business. When Glide Omarama closed its doors due to bureaucracy, a huge conglomerate of gliding knowledge and wisdom evaporated to the corners of the world. One of its former instructors, Milan Kmetovics, describes how he has set up Kahu Soaring, a commercial operation for overseas pilots wishing to enjoy the Omarama soaring experience. He was able to buy the Duo 'DD' – the same registration that Gavin Wills started Glide Omarama with – and hopes this is a good omen.
Milan Kmetovics is also a photographer and hopes the images included in this article will encourage visiting pilots. Another very talented photographer is German glider pilot Tobias Barth. His work was spotted by Mrs Siegle, who had taken over the Gliding Photo Calendar from the late Claus-Dieter Zinc. The calendar is now filled with Tobias' photographs. Achieving the perfect picture can take several months, or sometimes even one or two years, to organise a single flight. Tobias reveals how, first, he looks for an appealing landscape for his aerial photographs. You need the right weather conditions, and the take-off and landing site for the glider are also crucial. Look out this year for a new 'soaring' edition of the Aviation Calendar.
Preparation pays off for Tobias, and preparation is also vital for every one of us in the event of a winch launch failure. Serious injuries from accidents associated with winch launch failure are down following the BGA's safe winch launch initiative – but not eliminated. UK glider pilots fly about 150,000 winch launches each year. Failures occur, but the BGA safety team advises that, if followed correctly, the BGA's training will let us recover safely from a failure at any stage of the launch. Instructors will be happy to help you practise.
Also in this issue: BGA Chairman Andy Perkins reflects on a renewed focus on free time. Robert Tait is in the spotlight for our pilot profile. Sebastian Kawa reflects on the impact of stress in gliding competitions. Two book reviews: The Flight of the Arctic Fox and Sky Stories; Grimshaw has another caution. Kevin Atkinson investigates climate change. Fran Roberts looks at inclusivity and making WWGC22 a success. Nigel Pringle reflects on a retrieve from hell (or heaven). Andrew Reid shares tales of towing successfully with his Tesla Model 3. There are four pages of results from BGA-rated UK competitions, plus the announcement of the BGA provisional ratings list. Luke Walker and Jake Matthews share their experience of becoming an instructor. Alison Randle looks at how to bridge a belonging gap. Pete Stratten looks at the challenges facing gliding. Bob Pirie shares a moving poem. Nick Barnes reports on Dorset's junior gliding event. Andrew Jarvis reports on vintage gliding. Plus many more of your stunning images in the Gallery pages.
Fly safely and have fun
Susan Newby
Editor, Sailplane & Gliding
Pilot profile: Robert Tait
Robert is chairman of Highland Gliding Club. He's been gliding longer than he is old… his mother flew when she was pregnant with him. Winner of the 2020 UK Mountain Soaring Championships with Stuart Taylor, Robert's many gliding adventures include baling out after a mid-air collision
Return to Omarama
Milan Kmetovics reports that this spectacular New Zealand location is now back in business for those seeking soaring adventure
It's a battle of nerves
Sebastian Kawa reflects on the impact of stress in gliding competitions
Book reviews
Two titles reviewed in time for your Christmas wish list: The Flight of the Arctic Fox, by Rory O'Grady; and Sky Stories, by Dave Unwin
Glider pilot to soaring pilot
Frank Schellenberg reports on a program used by his club in the Netherlands that encourages everyone to become a cross-country pilot in three easy steps
Advisory 22: Nasty big sucky things
Ebenezer Grimshaw has yet another caution for gung-ho confident newbies
Atkinson's law on climate change
Kevin Atkinson investigates the impact on future UK gliding weather
Expanding horizons
Women Gliding is growing. Fran Roberts explains how you can improve inclusivity and help make the 2022 Women's Worlds a success
Sanctuary?
Nigel Pringle reflects on a retrieve from hell (or should that be heaven?) when wife Ginny landed short of her Cornish goal
Practical EV for towing
Andrew Reid responds to a recent article on green hazards, with tales of towing successfully with his Tesla Model 3
Picture Perfect
Tobias Barth reveals the hard work required to capture his stunning images that feature in gliding calendars
The racing year
Four pages of BGA-rated UK competition results and the provisional 2021 ratings list
Journey into instructing
Luke Walker and Jake Matthews share their experiences of becoming an instructor
Future focus
BGA CEO Pete Stratten looks at the challenges facing gliding
Farewell poem
Bob Pirie shares some moving words to celebrate the life, or mourn the passing, of a glider pilot
Starting out
Nick Barnes reports on Dorset GC's junior training event
Sociable flying
VGC President Andrew Jarvis reports on vintage gliding events
Act when the launch fails
BGA safety team explains why, if followed correctly, training will enable safe recovery from failure at any stage of a winch launch
Also in this issue:
BGA news; opinion; your letters; Gliding Gallery; Club Gallery; Club Focus – Ulster; development news; news; BGA badges; instructor ratings; obituaries; incident and accident summaries
Subscribe by direct debit now to save 50% on your subscription
Subscribe Now