February-March 2020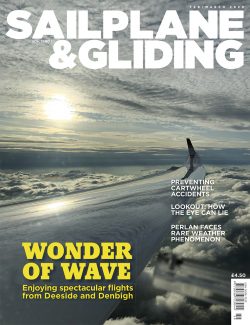 Whether in a Slingsby Capstan or the Eta, UK or overseas, pilots have been enjoying some spectacular adventures. Read about them in the Feb/March issue of S&G, which also includes an update on the Perlan Project and some great safety advice on lookout and avoiding cartwheel accidents.
While most were asleep, the promise of spectacular wave encouraged a brave few to rig early at Aboyne. The club's 'top guns' tackled a 500km triangle, which included a trip to Tongue (apparently more people have flown to the moon than made the trip to Tongue in a glider). Bob Dunthorn and Iain Macdonald had their own adventure in a 50-year-old+ Slingsby Capstan, returning with tales of great views, fantastic experiences, great banter and great fun – just what gliding is all about.
Jean-Sébastien Seytre is back in this issue to continue the tale of his flight in another two-seater – the 30.9m wingspan Eta. He travelled to Slovenia to experience flight in the Eta with top Open Class pilot Uli Schwenk. Jean-Sébastien says that his flight in this high-performance glider, with a great man of gliding, made for a special memory and was quite a gliding lesson.
Another high-performance glider featuring in the Feb/March issue is the Perlan 2. SkySight's Matthew Scutter returned to Argentina to support the Perlan Project with weather forecasting services. Another opportunity to reach a height of 90,000ft was hoped for, using mountain waves propagating to the stratosphere. Unfortunately, a rare weather phenomenon – Sudden Stratospheric Warming – meant this was impossible to achieve. Without great wave conditions, time was spent firming up the glider's aerodynamic limits with more test flights, including possibly the highest ever polar test flight, with an aerotow to 45,000ft for a sled ride at various airspeeds in still air.
As some of us blow away the cobwebs in anticipation of the coming season, don't miss the valuable safety messages in this issue. Optometrist and glider pilot Paul Sheffield explains how the eye can lie in the first of a two-part article on effective lookout. Next time you 'just didn't see it', it may not be your fault – read Paul's advice on why it is important to develop your own comfortable and workable scan. The BGA safety team has also been busy looking at how we can prevent cartwheel accidents. They are rare, but potentially fatal. The Safe Winch Launching initiative has been successful, but cartwheel accidents continue to cause serious injuries and fatalities. Once a cartwheel begins, the pilot is just a passenger so this is one article you cannot afford to miss.
Also in this issue: BGA Chairman Andy Perkins reflects on the invaluable work done by huge numbers of volunteers that give their time to keep gliding growing. Tony Cronshaw talks to G Dale in conclusion of his investigation of what we can learn from soaring birds. Chris Fox and Ed Downham report an increase in Airprox involving gliders last year. Jane Mead shares her experience of the DBS online application process. Graham Stanford takes a challenging trip to the seaside in his Libelle 201b. Adrian Morgan reflects on the 'longest' solo. Alison Randle uncovers unexpected results during a Masters' research project. Dave Salmon has two trailer tales to tell following landouts. There's an interview with Perlan chief pilot Jim Payne. Pete Stratten reports on a simpler approach to EASA pilot licensing. Paul Conran reflects on a full season of aerobatic competitions. There's a report from the 2019 BGA Club Management Conference. Andrew Jarvis reports on the award of a VGC medal. Chris Luton looks back at the 2019 ICL finals. Plus many more of your stunning images in the Gallery pages.
Fly safely and have fun
Susan Newby
Editor, Sailplane & Gliding
Lookout: how the eye can lie, part one
"I just didn't see it!" Sound familiar? Paul Sheffield explains why it may not be your fault
Flying with birds, part two
Tony Cronshaw concludes his investigation of what we can learn from soaring birds
A dream flight with top pilot
In the second of a two-part article, Jean-Sébastien Seytre reflects on his flight in the Eta with Uli Schwenk in Slovenia
Help keep us safe in the air
Chris Fox and Ed Downham report an increase in Airprox involving gliders last year
Way forward for DBS check
Jane Mead shares her experience of online application process
Autumnal trip to the seaside
Staffordshire GC's Graham Stanford takes a challenging trip to the seaside in his Libelle 201b during an expedition to Lleweni Parc
Reflecting on 'longest' solo
Adrian Morgan returns to finish what he started with his first glider flight over 30 years ago
Managing our expectations
Alison Randle uncovers some unexpected results during a Masters' research project
The early bird catches the wave
While members slept, a brave few rigged early at the promise of spectacular wave at Deeside. Iain Macdonald reports
Long or short, still trouble
Dave Salmon travels far and wide from Camphill, and returns with two trailer stories in the latest of our landouts from heaven or hell
Weather chaos
SkySight's Matthew Scutter explains how a rare weather phenomenon scuppered the Perlan Project's latest record attempts in Argentina
New sailplane licensing rules
BGA CEO Pete Stratten reports on a simpler approach to EASA pilot licensing
Weather gods smile on aeros
National aerobatics coach Paul Conran reflects on a full season of competitions
Path to develop
Supporting individual pathways was a key theme at the BGA Club Management Conference. Alison Randle reports
VGC medal for a special man
VGC President Andrew Jarvis reports on a memorable event
A close finish
Chris Luton looks back at the 2019 Inter-club League finals – a fun event for all involved
Stop the drop
The BGA safety team looks at preventing cartwheel accidents
Also in this issue:
BGA news; opinion; your letters; Gliding Gallery; Club Gallery; Club Focus – Shalbourne; development news; news; BGA badges; instructor ratings; obituaries; incident and accident summaries
Subscribe by direct debit now to save 50% on your subscription
Subscribe Now