February – March 2021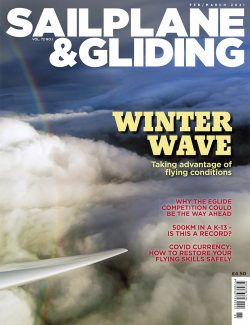 500km in a K-13?! Read about this epic flight and other flights taking advantage of winter flying conditions in the Feb/March issue of S&G. Don't miss the essential advice on restoring flying skills safely and find out whether electric could be the future of gliding.
Of the many interesting flights that took advantage of weather conditions between lockdowns, one in particular stands out – 500km in a K-13. The K-13 is not really considered a hot cross-country machine, boasting a handicap of 67 and achieving 27:1 on a good day. However, when David Masson forecast another 750km+ day it did not take much to persuade Nigel Mallender to join him for a 500km task in a K-13. Eight and a half hours later, the question was asked "could this be the longest UK flight flown in a K-13?" – followed quickly by David asking whether a 750km in a K-13 could be next!
It was an early winter's day, overcast with an easterly breeze, and promising to be a 'circuits' day. That all changed when this typical winter's day turned into a soaring day for early-solo Suzie Forbes, who was delighted to experience her first wave flight at Wyvern GC. Not only did Suzie have her first local wave flight, but she achieved the longest flight of the day. Suzie says that she left her heart up there on cloud nine as she was so euphoric. Highland GC pilots also 'stole' a day from the winter grey, with flights in great conditions. Richard Gale captured the day with some stunning images, which you can see in this issue's Gliding Gallery.
Depending on the winter weather and Covid constraints, your next flight could come a long time after your last. The past 10 months or so have produced some particular problems with loss of currency. In a professional world, we would undergo continuation training, simulator sessions and dual practice to maintain or restore our skills before flying in command. Happily, there are gliding equivalents, as the BGA safety team explains. This article is essential reading for all glider pilots.
With the advent of various types of electric propulsion, a new world of zero emission gliding is here. The second EGlide competition was held in Germany last summer. Pilots are able to use electric engines to a certain degree during flight without penalty. SkySight's Matthew Scutter won the competition in his new Diana 2 FES. The challenge is to use electric options efficiently during tasks. Pilots were using different tactics every day, trying to figure out the best strategy. Matthew said: "It's quite exciting to be breaking new ground where no one knows what's best. It's like flying before MacCready Theory." Rather than replacing 'ordinary' gliding, Matthew is positive about the possibilities to extend what we're already doing. Using this concept, it may be possible to increase the length of the soaring season with comps for electric gliders starting in March and again at the end of the season.
Also in this issue: BGA Treasurer and Company Secretary Tony Smith praises the resilience and adaptability displayed at club level. Mike Armstrong is in the spotlight for our pilot profile. Harriet Gamble finally gets to go cross-country in her loan K-6. Justin Wills lands out on the airstrip of a very distinguished man. Tony Segal has a confession to make in a landout from heaven or hell. David Roberts leads a tribute to Dr Peter Saundby. Martin Roberts looks at the next challenge once your dream has come true. Early-solo Adrian Morgan invests in a glider. A strange coincidence sees Jerry Henderson Newton reunited with the Swales glider built for his father. Mike Fox's book Soaring Adventure: a guide for club pilots is reviewed. Grimshaw uncovers another area of murky gliding horror for newbies. Kevin Atkinson discusses his law on outsourcing the thermal factory output. Pete Stratten gives us more reasons to be cheerful. Andrew Jarvis reports on the VGC Archive. Chris Fox and Ed Downham report on Airprox involving gliders during the past year. Plus many more of your stunning images in the Gallery pages.
Fly safely and have fun
Susan Newby
Editor, Sailplane & Gliding
Is this longest UK K-13 flight?
With David Masson forecasting another 750km+ day, it didn't take much to persuade Nigel Mallender to fly a 500km task with him in a K-13
Pilot profile: Mike Armstrong
Mike Armstrong is the only person to have flown a 750km from Camphill. Firsts are in the blood as his father flew the first 300km downwind in an Oly 2 and Mike also completed the first closed circuit 300km in a K-8 on a blue day and joint first 500km
Preparation is paying off
After lockdown studying and maintenance, it's finally time for Harriet Gamble to set off on a cross-country adventure in her loan K-6
A landout that was a privilege
When Justin Wills landed out in the Malvern Hills, he was left with the impression that the owner of the Berrow airstrip was a very distinguished man
Field landing of a champion
Many, many years after the event, Tony Segal confesses to the forced landout of the then current national champion
Gallery special: one day at Highland GC
This issue the Gallery pages focus on a winter's day at Highland GC, with photographs by Richard Gale
A tribute: Dr Peter Saundby
David Roberts leads a tribute to a great man, who played a significant role in defending the rights of light aviation pilots
Click here to read the full tribute from all of those who have written
I've done that – what next?
Having completed his dream flight in 2019, Martin Roberts asks, what do you do once your dream has come true?
Time for joys of ownership
Adrian Morgan ignores all the warnings, visits a 'dangerous' site from the comfort of his home and finds himself taking the plunge and investing in a glider
Spooky story of the Swales
Strange coincidence reunites Jerry Henderson Newton with Swales glider built for his father
It's electrifying!
The Thermal Podcast's Herrie ten Cate talks to Matthew Scutter after he won the E2Glide comp in his Diana 2 FES
Book review
Phil Sturley and Gerard Robertson review Mike Fox's book, Soaring Adventure: a guide for club pilots
Winter wave wonderland
Early-solo Suzie Forbes is thrilled to have experienced her first wave flight at Wyvern GC
What they actually did tell you – advisory 17: embarrassment and humiliation
Ebenezer Grimshaw has a final caution for newbies in mountains
Atkinson's law on outsourcing the thermal factory output
Kevin Atkinson investigates in the third part of his article
More reasons to be cheerful
The BGA's Chief Executive, Pete Stratten, looks to the future
VGC archive is taking shape
Andrew Jarvis reports on the hard work and development of the VGC Archive, housed at Lasham
Communicate Airprox risks
Chris Fox and Ed Downham report on Airprox involving gliders during a year of extraordinary events impacting on the amount of flying in the UK
Covid currency
The BGA safety team highlights the concerns of pilot currency, particularly due to events in the past 10 months
Also in this issue:
BGA news; opinion; your letters; Gliding Gallery; Club Gallery; Club Focus – Essex & Suffolk; development news; news; BGA badges; obituaries; incident and accident summaries
Subscribe by direct debit now to save 50% on your subscription
Subscribe Now