June – July 2011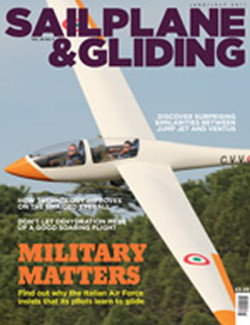 Could you fly a Harrier jump jet? Discover the surprising similarities between flying a fast jet and a glider and find out why the Italian Air Force insists that its pilots learn to glide in the June/July issue of S&G. You can also read about how dehydration canmess up a good soaring flight, and how technology can support effective lookout.
Andy Jessett did not have to be asked twice when given the opportunity to swap his beloved Ventus 2cT for a Harrier jump jet for a day and make his first vertical carrier landing (apparently more people have gone into space than have the chance to do that). Not usually one to fly power, Andy was surprised at the similarities he discovered and was left with a grin that just might have to be surgically removed.
The Italian Air Force Gliding Centre has a new commander. Major Filippo Zuffada (pictured on the front cover) is a highly skilled glider pilot, who wants to combine his vast gliding experience with fresh ideas for the benefit of instructors and students.
With conditions right for a good soaring flight, the last thing you need is to mess it up through dehydration. Nick McCloud discovered the significance of the 'I'M SAFE' slogan the hard way and shares his experience with us.
On a good soaring day others will, no doubt, join you. With most glider collisions happening close to the home gliding site, Chris Nicholas offers a personal viewpoint on technology that can support effective lookout.
Also in this issue: BGA Chairman Patrick Naegeli recognises those that have been a source of inspiration to our sport, including two gliding greats – Chris Wills and Nick Goodhart – who have moved on to the big thermal in the sky. Michael Powell asks 'is your airfield protected?'. S&G reports on the highlights of AERO 2011. Tim Macfadyen takes us through the differences between variousASW 20 models. Darren Smith remembers how he left his comfort zone and got into trouble during his first competition. Hugh Browning reports on the success of the BGA safe winch launch initiative over the past five years. Bruce Marshall looks back at theearly days of soaring in Scotland. Ian Strachan reflects on the introduction of handicapping in the UK – probably the first nation to adopt a scientific approach. VGC secretary Bruce Stephenson describes how vintage gliding still holds the flicker of innocence. We've more truly stunning images in the Gallery pages. And last, but not least, there's the BGA club annual statistics.
Fly safely and have fun.
Susan Newby
Editor, Sailplane & Gliding
Is your airfield protected?
Michael Powell offers advice on safeguarding your gliding site
AERO 2011
S&G reports on the highlights of Europe's biggest aviation fair, held in Friedrichshafen, including three new Open Class gliders
Variety on an ASW 20 theme
Have you ever wondered what the differences are between the various ASW 20 models? Tim Macfadyen reveals all…
Sick and tired
Nick McCloud explains, from experience, how to mess up a good soaring flight by not drinking enough (water) the day before
BGA safe winch launch initiative – five years on
Hugh Browning reports a decrease in the number of fatal or serious injury accidents during the first five years of the BGA safe winch launch initiative and highlights elements for staying safe
Military matters
Major Filippo Zuffada, Commander of the Italian Air Force Gliding Centre at Guidonia-Montecelio, wants to combine his vast gliding experience with fresh ideas for the benefit of instructors and students. Philip Stevens reports
In support of effective lookout
Collisions have accounted for 20 fatalities in the UK over the past 23 years. Chris Nicholas offers a personal viewpoint on technology that can support 'See and avoid'
Ventus vs Harrier
Andy Jessett jumped at the opportunity to swap his beloved Ventus 2cT for a Harrier jump jet for the day and discovers that, although the differences between a fast jet and a glider are huge, there are more similarities than you might imagine
First Scottish soaring flights
Bruce Marshall recalls the early days of soaring in Scotland
The history of handicapping
The UK was probably the first nation to use a scientific approach to handicapping. Ian Strachan reflects on its introduction
Oh my Omarama
Christopher Claxton is introduced to gliding in New Zealand and asks if this is the most spectacular soaring site on earth
Also in this issue:
BGA news; your letters; Gliding Gallery; BGA club annual statistics; obituaries; club gallery; club focus – Banbury; club news; BGA Badges; incident and accident summaries
Subscribe by direct debit now to save 50% on your subscription
Subscribe Now