June – July 2014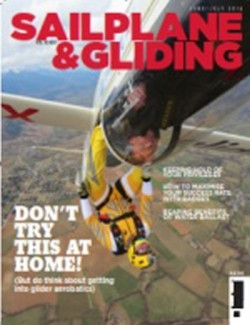 EASA and advantage are not words you might expect to see in the same sentence, but aerobatics has seen the unexpected benefit of a rise in popularity with positive knock-on effects. Find out more in the June-July issue of S&G, where you can read how to keep hold of privileges as you convert into the new licensing system. The water ballast debate continues, plus there is expert advice for badge hunters on maximising their chances of success.
This year's Dan Smith aerobatics comp was oversubscribed for the first time in its history, thanks to the growing interest and participation in aerobatics. Whether it's been driven by our British indignation that Brussels won't stop us doing something we have done for years, or the realisation that an aerobatic rating after 2015 will require a much longer EASA approved course, the result has been more people learning this skill. Guy Westgate investigates in the first of a two-part article, which covers the BGA Standard Aerobatic Badge, how to pass it and how to fly better manoeuvres.
If you want to hold on to privileges, such as aerobatics, read Pete Stratten's advice on licence ratings and qualifications for pilots converting into the new licensing system.
The water ballast debate looks as if it will run and run (if you excuse the pun), with the third in a series of S&G articles. This issue, Ed Johnston, who has represented the UK in all four classes at European and World Championships, asks the question: "Can you, as a pilot, beat the glider in the glide more easily than improve in the climb?" He advises us to build confidence, find the limits, get comfortable with the heavy glider in the climb, and then find ourselves keeping up with lighter compatriots and waving cheerio in the next glide.
If your next personal challenge is a badge flight, the last thing you want is to unwittingly fail to satisfy badge rules. In the latest article in our Ask the Coach series, Tony Cronshaw asks FAI/BGA badges officer Basil Fairston and leading coach Kevin Atkinson for tips to help you maximise your chance of success and minimise the pain of failed attempts.
Also in this issue: Dave Salmon reports on an airspace win at Camphill. A four-page report on AERO 2014, including feedback from UK pilots visiting Friedrichshafen this year. Ian and Jan Atherton fulfil their long-held ambition tosoar the Canadian Rockies. Phil King reviews Wings Over Arabia. Wyn Davies bags a Diamond height during a club expedition to Portmoak. Alan Lapworth investigates what causes lightning and whether it is possible for a glider pilot to forecast it with any accuracy. Allen Kefford reviews MacWet gloves. Alex Harris, 17, reveals what motivated him to start gliding and why nothing will stand in the way of his passion. Development Officer Alison Randle explains why your stats are vital and how you can help boost your club's figures. Peter Underwood continues to take us through the pitfalls and rewards of restoring a vintage glider. Don Puttock looks at some thought-provoking methods of improving safety. There are many more of your stunning images in the Gallery pages. And last, but not least, there's the BGA club annual statistics.
Fly safely and have fun
Susan Newby
Editor, Sailplane & Gliding
AERO 2014
S&G reports on the gliding interests at Europe's biggest aviation fair, held in Friedrichshafen in April
The times they are a changin'
UK pilots share their own experiences from this year's AERO
Badges: more gain less pain
Tony Cronshaw asks FAI/BGA badges officer Basil Fairston and leading coach Kevin Atkinson for tips to help badge hunters maximise their chances of success
Northern exposure
Ian and Jan Atherton fulfil their long-held ambition to soar the Canadian Rockies, flying from Invermere Soaring Centre, British Columbia
Another two barrels please.
Why should we ever put water in the glider? Ed Johnston continues the debate on the pros and cons of using water ballast
The height of achievement
Just how good can it get? Wyn Davies enjoys a week's expedition to Portmoak with Devon & Somerset Gliding Club and bags himself a Diamond height
When lightning strikes
Lightning can destroy a glider. Alan Lapworth investigates what causes lightning and whether it is possible for a glider pilot to forecast it with any accuracy
Aerobatics
Guy Westgate asks 'What has EASA ever done for us?' and discovers unexpected benefits
Getting a grip
Allen Kefford gives MacWet gloves a stringent outing at Dunstable to review them on the field, winch driving and as both a glider pilot and tug pilot
Passion for a life of flying
Seventeen-year-old Alex Harris already holds a Silver C and sports aerobatic rating. He reveals what motivated him to start gliding and why nothing will stand in his way
Keeping hold of your privileges
Pete Stratten advises on licence ratings and qualifications as pilots convert into the new licensing system
Vital stats
BGA Development Officer Alison Randle Randle explains why club statistics are vital and what you can do to help boost your club's figures
Get stuck in
Peter Underwood continues to take us through the pitfalls and rewards of bringing something special back to life, restoring a vintage glider
Accidents can and do happen
Don Puttock looks at some thought-provoking methods of improving safety by anticipating things that might go wrong for us
Also in this issue:
BGA news; your letters; book review – Wings Over Arabia; Gliding Gallery; obituaries; club gallery; club focus – RAF Cranwell; club news; BGA badges; incident and accident summaries; BGA club statistics
Subscribe by direct debit now to save 50% on your subscription
Subscribe Now