June-July 20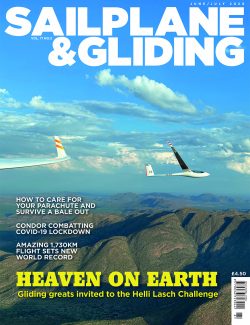 With gliders grounded, pilots have been scratching the itch with visits to new gliding sites and taking part in competitions using soaring simulators. Before lockdown, a new world record was set with an epic 1,730km flight, and some gliding greats discovered heaven on Earth during the Helli Lasch Challenge. Read about these in the June/July issue of S&G and don't miss essential top tips on caring for your parachute and how to use it correctly to save your life after a bale out.
When Coronavirus struck, clubs rallied round with a number of ways of keeping members involved and new ways of delivering gliding activities. Condor has seen a surge in popularity, keeping pilots in the air with virtual soaring. Yorkshire Gliding Club now has a virtual soaring club, with tasks running most evenings and sometimes during the day. Initially created for its own members, anyone is now invited to join and, more recently, French clubs have been involved. With the Winter Series postponed, UK Junior Gliding arranged the CondoraVirus Championship, which proved popular with 41 junior competitors plus a number of other participants. Virtual flying scratches the itch and some of the skills and knowledge will certainly be transferable.
New Zealand's elite glider pilot Terry Delore flew an epic 1,730km out-and-return in February. Starting at Omarama on New Zealand's South Island, Terry crossed over the Cook Straight and into the North Island before turning around. The flight set a new Free Out-and-Return world record for 15-metre gliders. Terry has broken many world records, but describes this flight as the hardest, most challenging and satisfying one of his life. He says he couldn't have flown further and used every bit of the knowledge gained over the years to complete a flight he had been trying to do for more than a decade.
Heaven on Earth is how glider pilots describe the Helli Lasch Challenge. The gliding challenge was introduced as a living memorial to Helli Lasch, Nicky Oppenheimer's late father-in-law. Its aim is to promote international gliding relations, and South Africa as a glider destination, while developing the capabilities of the South African team. Each year, the Oppenheimer family invites some of the best glider pilots in the world to Tswalu, the largest privately-owned nature reserve in South Africa. Germany's Katrin Senne was one of the pilots invited this year and she writes about some of the impressive and unique experiences enjoyed.
Following G Dale's excellent Bale out! feature in the last issue, Anthony 'Mac' McDermott shares top tips on how to care for and use parachutes. BGA collision statistics 1987-2014 indicate that there were 22 fatalities and 16 successful parachute descents. While not probable, it is possible that YOU may have to bale out. Pilots from ab initio to pundit need to recognise that possibility and better prepare themselves. Mac's tips cover the care, inspection and wearing of the parachute. He also gives advice on surviving under the canopy – the job of the parachute is to save your life, but you must take seriously the need to survive the landing as best you can. Read this article and understand that your parachute is more than an expensive backrest. Hopefully, Mac's article will give you sufficient knowledge and the confidence to actually use a parachute in a bale-out situation.
Also in this issue: BGA Chairman Andy Perkins reflects on these strange times in lockdown. Jordan Bridge soars over an Indian city. Adrian Morgan reflects on the trials of an early solo. David Innes reports how Deeside has progressed instructor training in lockdown. Danny Richmond reports on the CondoraVirus Challenge. Harriet Gamble flies Condor tasks as she waits to fly her loan glider. Colin Slade reflects on the butterfly effect. Dr Tony Segal discovers his choice of a field for landout was not the best bet. Kevin Atkinson discusses his law on the transfer of heat and atmospheric instability. Dr Frank Voeten looks at what is entailed in getting your LAPL medical. Pete Stratten reports on lockdown and beyond. Andrew Jarvis reports on a pocket money vintage glider. The BGA safety team reports on how it analyses gliding accidents. Plus many more of your stunning images in the Gallery pages. And last, but not least, there's the BGA club annual statistics.
Fly safely and have fun
Susan Newby
Editor, Sailplane & Gliding
A taste of India
Jordan Bridge heads for warmer climes over the winter months and experiences what it's like to soar over an Indian city
Surviving your bale out
Anthony 'Mac' McDermott shares top tips on how to care for parachutes and to use them correctly to save your life
The trials of an early solo
Adrian Morgan reflects on a valuable lesson learnt when classic factors combined to overload him after a small mistake
Most challenging flight of my life
The Thermal Podcast's Herrie ten Cate talks to Terry Delore after an amazing 1,730km out-and-return flight in his ASW 27B, setting a new world record
Carry on instructor training
Deeside GC has progressed B Module learning while in lockdown, reports David Innes
CondoraVirus Championship
With the Winter Series postponed, juniors competed online. Danny Richmond reports
Waiting for a chance to fly
Harriet Gamble is loaned a K-6 for a year, just as clubs closed. Undeterred, she is studying hard and flying Condor tasks
Instil a sense of adventure
Colin Slade reflects how the butterfly effect took him from solo in a K-4 to captain of B777
It's not worth gambling on it
Dr Tony Segal discovers that his choice of field for a landout was not the best bet
Keep calm and carry on soaring
With gliders grounded, it is important to retain a 'club feeling'. Yorkshire GC is keeping members flying with a virtual soaring club, reports Chris Booker
Feels like heaven
Katrin Senne reports from the 2020 Helli Lasch Challenge
Atkinson's law on transfer of 'heat' and atmospheric instability
'Instability in the atmosphere is primarily driven by humidity and the changing states of water', says Kevin Atkinson
How to get a LAPL medical
BGA Medical Adviser Dr Frank Voeten takes a look at what is entailed in obtaining your LAPL medical
Lockdown and beyond
An update from BGA CEO Pete Stratten
Backroom boys
How the BGA safety team analyses gliding accidents
Also in this issue:
BGA news; opinion; your letters; Gliding Gallery; Club Gallery; Club Focus – Stratford on Avon; development news; news; BGA club statistics; BGA badges; instructor ratings; obituaries; incident and accident summaries
Subscribe by direct debit now to save 50% on your subscription
Subscribe Now