June-July 2019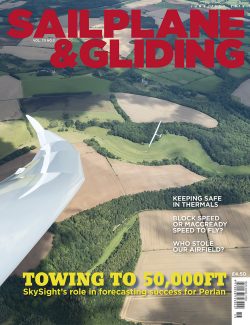 Fancy an aerotow to 50,000ft? Find out more in the June/July issue of S&G and discover how SkySight is playing a role in forecasting success for the Perlan Project. There are also top tips on staying safe in and around thermals, plus how block speeds compare with MacCready's speed-to-fly.
If you are used to paying for aerotows in pounds per minute, you might struggle to adjust to the Perlan 2's tow plane, which is closer to pounds per second to operate! Being able to tow to 50,000ft has been a game changer for the Perlan Project. Also playing an important role in the project's success is SkySight, after Matthew Scutter was approached with a request to extend his wave forecasts to Argentina – and up to 100,000ft. Matthew joined the team in Argentina last September and found it invaluable to be on hand when a decision was being made daily to commit to the most expensive aerotow in gliding history. He is returning to play his part in the Perlan Project in Argentina this September.
Perhaps not reaching quite those heights, experienced cross-country pilots talk about using 'block speeds' when choosing their speed-to-fly through different areas of sink or lift. In the latest Aim Higher coaching article, Tony Cronshaw asks lead coach Kevin Atkinson how block speeds work in practice and how this methodology compares with MacCready speed-to-fly.
It's hard to solve physics problems in the thick of a busy thermal. If you're catching up with another glider in a turn, should you: open out your turn/tighten up your turn; increase your airspeed/reduce your airspeed? Even senior pilots give conflicting answers. It is an important subject, as about half of all glider-glider mid-air collisions and fatalities are in thermals. The BGA's safety team has put together an article and useful list of additional sources of information to help keep us safe, both in and around thermals.
Europe's largest aviation fair, AERO, took place in Friedrichshafen, Germany, in April. This year was a 'gliding year' and there was plenty of interest for glider pilots, including an electric-powered self-launch Standard Class glider – the AS 34 Me from Schleicher, Jonker's self-launch JS2 and Schempp-Hirth's improved Arcus.
Also in this issue: BGA Chairman Andy Perkins reflects on adapting to a changing world. Schleicher's Ulrich Kremer talks about sailplane developments. David Innes highlights wind effects on mountain wave. Chris Gill reviews the latest personal GPS messenger. Diana King offers advice for the security of tenure and operations for clubs. Finn Sleigh reports how the juniors are preparing for the Worlds. Ebenezer Grimshaw breaks taboos, dispels myths and restores reality for newbies. S&G's landouts from heaven or hell series continues. Justin Wills relates his adventures, gliding in the UK and Canada. Ian McFarlane shares the supersonic story of BGA Diploma winner John Allan. BGA development officer Alison Randle looks at junior development. Andrew Jarvis looks at the vintage events we have to look forward to, including the International Rally coming to Tibenham. Plus many more of your stunning images in the Gallery pages. And last, but not least, there's the BGA club annual statistics.
Fly safely and have fun
Susan Newby
Editor, Sailplane & Gliding
AERO 2019
A seven-page report on the highlights of Europe's biggest aviation fair, held in Friedrichshafen each April
What's new at Schleicher?
Hermann Weber talked to MD Ulrich Kremer about all things Schleicher in the lead up to AERO
Block speed or MacCready STF?
Tony Cronshaw talks to Aim Higher lead coach Kevin Atkinson about how block speeds compare with speed-to-fly
Click here to read the full article Going places, from S&G Dec 13/Jan 14
Knowing the wind… the unauthorised sequel
David Innes expands on a recent article, highlighting wind effects on wave flying, and offering some useful tricks
Communicate in the wild
Chris Gill reviews the SPOT X, a two-way satellite messenger
Who's stolen our airfield?
Diana King offers useful advice for the security of tenure and operations for gliding clubs
A countdown to Hungary
Finn Sleigh reports how the juniors are preparing for the Worlds
Keeping safe in thermals
Continuing a new series from the BGA safety team, this time with a focus on how to stay safe both in and around thermals
What they didn't tell you – advisory 11: going public
Ebenezer Grimshaw continues to break taboos, dispel myths and restore reality for newbies
What a load of old bull…
Sharing two more of your 'landouts from heaven or hell' tales
Don't you hate it when you have to avoid the tow plane contrail?
SkySight's Matthew Scutter reflects on the moment he was asked to join the Perlan Project in Argentina
A summer of expeditions
Continuing the tales of Justin Wills' travels, with his adventures during trips to the UK and Canada
A supersonic tale to tell
Ian McFarlane shares the story of BGA Diploma winner John Allan as he celebrates his 90th
Close to home
The International Rally is coming to the UK – just one of many vintage events to look forward to, reports Andrew Jarvis
Also in this issue:
BGA news; opinion; your letters; Gliding Gallery; Club Gallery; Club Focus – Welland; development news; club annual statistics; club news; BGA badges; instructor ratings; obituaries; incident and accident summaries
Subscribe by direct debit now to save 50% on your subscription
Subscribe Now