June – July 2021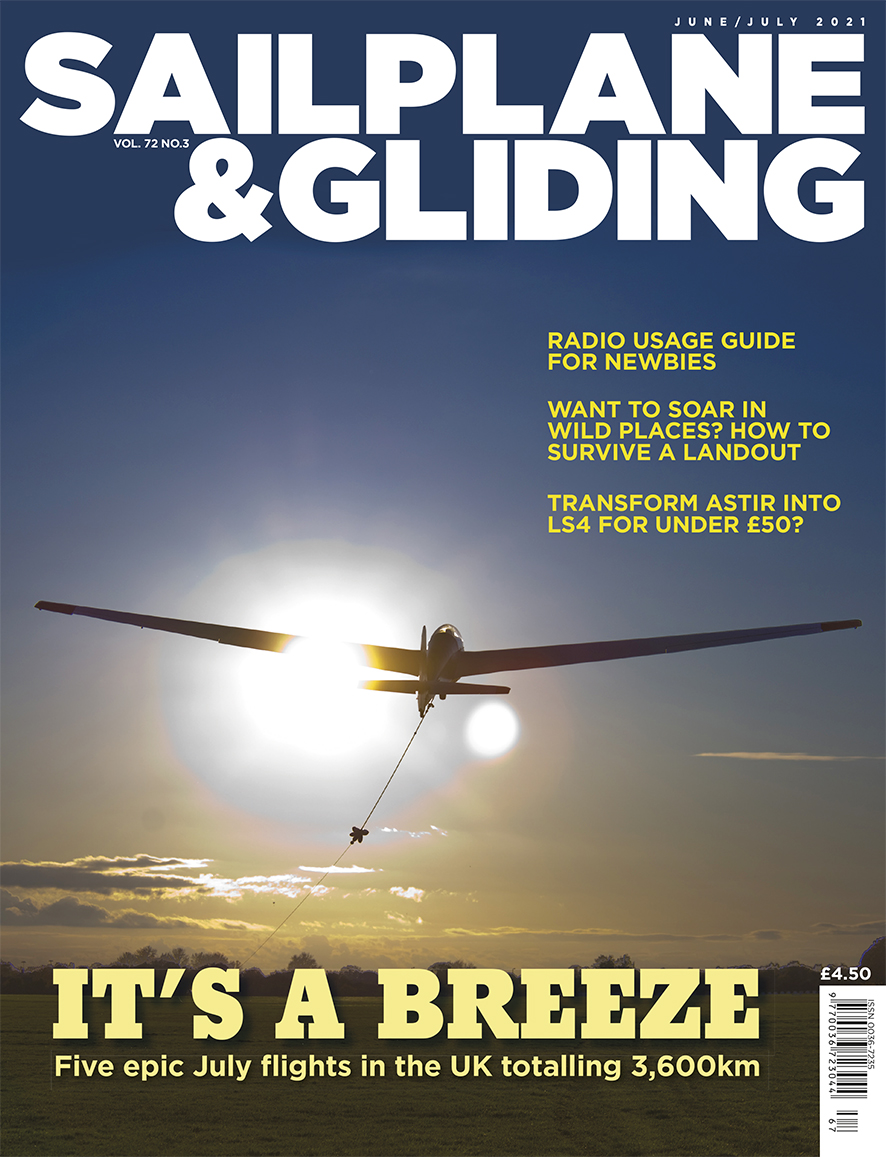 From epic summer flights in the UK to how to survive landing out in wild places – it's all in the June/July issue of S&G. There is an essential guide to radio usage for newbies, and you can read about one man's mission to turn his Astir into an LS4 for under fifty quid.
The idea of declaring a 1,000km in the UK had previously been 'stuff made of dreams' for Ken Barker, but having flown 809km the day before it seemed perfectly natural to go for it. Ken enjoyed five epic flights from Lasham in July, totalling 35 hours and 3,600km. One flight earned him a 750km diploma. Ken's 'bonus' for the day was a retrieve after a 1,068km flight to rescue Dave Masson and Nigel Mallender. Their 506km flight in a K-13 featured in the Feb/March 21 issue.
Lockdown did nothing to relieve John Williams' need to go and soar among the wild places. Lack of currency and reading about a few thought-provoking experiences gave him food for thought. John is always heavily focused on having options to avoid landing somewhere that will need emergency assistance, but lockdown seemed a good time to seek advice from those who one day may well save our lives. There are ways that we can help them to help us, and some of them are not that well known. John has now modified his list of absolute essentials to carry in the glider. One item is a survival jacket and S&G readers can benefit from a 20% discount on the jacket, which is about the size of a packet of crisps.
New to cross-country flying, or nervous at the prospect of using the radio? We are all being told to use the radio to talk to Air Traffic Control more than we historically have. Chris Fox explains why we should be talking to them, what kind of service to ask for and how to do it. This article was triggered by a request from a new subscriber to S&G. Glider pilots are encouraged to take a Flight Radio Telephony Operator's Licence (FRTOL) course, if they haven't already done so. Developed by Paul Ruskin and Andrew Watson, it places the emphasis firmly on gliding. The next course will be run over the 20221/2022 winter.
Adrian Morgan kept himself occupied during lockdown, planning ways of enhancing the performance of his recently acquired Astir. He said that replacing the yaw string with furry dice was probably not a great idea, but after hours of research he was sent a paper written by Grob many years ago, concerning turbulators. Inspired by the thought of a claimed five per cent performance increase for the cost of a roll of dimpled tape, Adrian set about turning his 'Concrete Swan' into an LS4.
Also in this issue: BGA Chairman Andy Perkins pays tribute to the BGA's Patron, HRH Prince Philip. BGA Vice Presidents Roger Barrett and Ben Watson add their tributes to our Patron. Mike Fox shares the first chapter of his book Soaring Adventure. Joey Beard talks to Ethan Low about his LEGO set of thermalling gliders. Chuck Fulton talks to triple world champion George Lee. Ron Lynch is in the spotlight for our pilot profile. Tony Wiseman reflects on an unforgettable wave flight in Minden. Peter Freeland reports on Crown Service GC. Ebenezer Grimshaw offers a selection of handy goodies for newbies. Kevin Atkinson looks at the mechanism of a sea breeze and the fourth drive in the thermal factory. James Head introduces a department set up in the CAA to support GA airfields. Pete Stratten looks at the road to recovery for UK gliding. Tim Freegarde reviews Tony Segal's book Glider pilot safety and cockpit crashworthiness. Andrew Jarvis reports on a Royal Aero Club medal for Gary Pullen. Bruce Marshall reports on a challenging retrieve. The BGA safety team reports on the importance of a good lookout. Plus many more of your stunning images in the Gallery pages.
Fly safely and have fun
Susan Newby
Editor, Sailplane & Gliding
Tribute to the BGA's Patron
Two BGA Vice Presidents, Roger Barrett and Ben Watson, pay tribute to HRH Prince Philip
Plan to survive
Has lockdown left you longing to soar in wild places? John Williams offers valuable advice should you have to land out
Radio: why it's good to talk
New to cross-country flying, or nervous at the prospect of using the radio? Chris Fox explains how, and why, we need to be talking to Air Traffic Control
Flying for fun
The first chapter of Mike Fox's book Soaring Adventure, reproduced here, introduces the sort of flying that is to be encouraged
Building your own glider(s)
Joey Beard talks to Ethan Low, who has designed a LEGO set featuring gliders in a thermal
George Lee
Chuck Fulton, host of aviation podcast Soaring The Sky, talks with triple world gliding champion George Lee about some of the highlights of his gliding career
Transform an Astir into LS4?
After hours of research, Adrian Morgan discovers how to turn his 'Concrete Swan' into an LS4 for under fifty quid…
Pilot profile: Ron Lynch
Not many glider pilots are still flying solo at 90, let alone doing aerobatics. Ron Lynch is the exception to the rule. A founder member of Bath Gliding Club, Ron was the first ab initio solo trained by the club and went on to serve as CFI for a total of 24 years
It was a breeze
Ken Barker returns to Lasham for five epic July flights totalling 35 hours and 3,600km – one flight earning him a 750km diploma
I had a dream
Tony Wiseman reflects on an unforgettable flight at Minden that enabled him to fulfil a long-held ambition and gain a Lennie pin
History of a 'secret' club
You may not have heard of Crown Service GC, but the club traces its origins back to 1959 and had several homes before settling at Lasham, reports Peter Freeland
Advisory 19: At last… something useful!
Ebenezer Grimshaw advises newbies on essential gadgets, available in his 'summer collection'
Atkinson's law on outsourcing the thermal factory output
Kevin Atkinson investigates in the fifth part of his article
It's so good to be back!
The BGA's Chief Executive, Pete Stratten, looks at the road to recovery for UK gliding
Book review
Tim Freegarde reviews Tony Segal's book Glider pilot safety and cockpit crashworthiness
Medal for the human dynamo
The driving force behind the Gliding Heritage Centre is recognised with a Royal Aero Club medal, reports Andrew Jarvis
Mucha ado on a spring day…
A long time ago, at a gliding club far away… (well, for some!)… a challenging retrieve took place. Bruce Marshall reports
A good lookout
Most mid-air collisions occur in close manoeuvring situations. The BGA safety team looks at the shortcomings of the human visual system
Also in this issue:
BGA news; BGA Trophies; opinion; your letters; Gliding Gallery; Club Gallery; Club Focus – Oxfordshire Sportflying; development news; news; BGA badges; obituaries; incident and accident summaries
Subscribe by direct debit now to save 50% on your subscription
Subscribe Now