June – July 2022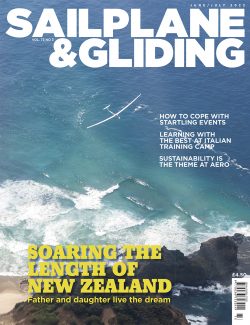 From soaring the length of New Zealand, to learning from the experts in Italy, you can read about it in the June/July issue. A Ukrainian glider pilot describes how his club is faring in the middle of the Russian invasion. Plus, could you safely cope with startle and surprise?
For the past six years, Terry and Abbey Delore have been keeping an eye on weather patterns to fulfil their dream of soaring the length of New Zealand. The project has taken years of research to soar from the Southernmost tip – Bluff – up the South Island, crossing Cook Strait to the North Island with an end goal of the Northernmost point, Cape Reinga. On 20 December, the pair flew from Omarama to Auckland –1,600km in a 14-hour flight. The adventure continued after Christmas, on 11 January, soaring from Auckland to Cape Reinga. This epic adventure is thought to be a world first.
Minor details like the lack of an appropriate glider and limited numbers of participants did not dissuade Andrea Venturini from wanting to take part in Alberto Sironi's high-performance training camp in Varese, Italy. Fortune smiled on him, and Andrea was given the opportunity to rent an Arcus M and to fly with Italian record holder Aldo Cernezzi. Flying in the Alps, Andrea experienced several 'flights of a lifetime' and he has come to realise that all pilots should grab every possible opportunity that comes their way to further their skills and enjoyment of gliding.
While many of us were preparing for the gliding season, the Buzova Gliding Club found itself in the middle of an invasion, with Russian forces nearby, and a Russian fighter jet crashing at the airfield. Herrie ten Cate spoke with 24-year-old glider pilot Andrii Lohvynchuk about what is happening to him and other club members as the war rages around them. Some members have evacuated, some are in the army and others are in civil armoured formations.
What would you have done if you'd found yourself in the situation faced by Capt 'Sully' Sullenberger, who in 2009 landed an A320 airliner in New York's Hudson River after losing both engines two minutes after take-off in an encounter with a flock of Canada Geese? This landing is one of five case studies on the effects of startle and the human factors aspects when something takes us by surprise. Human factors increasingly emerge as important aspects in gliding accidents and a gliding parallel to Sully's landing would be to reject a dubious final glide and land safely in a field. The BGA safety team comments that you may not have Tom Hanks play you in a movie, but you should walk away with your glider intact.
Also in this issue: Sustainable aviation is the theme at AERO 2022. BGA Chairman Andy Perkins reflects on the work being done behind the scenes to develop and promote our sport, and preparations for WWGC2022. Phil Drake is in the spotlight for our pilot profile. Mike Randle remembers a lengthy retrieve with intrepid shortcut. David Edwards captures some stunning photographs at the Winter Series. Ron Johns reflects on his early days learning to explore the sky in a T-31. Bernard Eckey shares his memories of gliding legend Ingo Renner. Grimshaw peers into yet another murky area. Kevin Atkinson explores the water furnace. Pete Stratten reminds us of the importance of using up-to-date technologies. Andrew Jarvis talks to Phil Drake about re-covering a vintage glider. Andy Perkins introduces Project Future Proof. Plus, many more of your stunning images in the Gallery pages.
Fly safely and have fun
Susan Newby
Editor, Sailplane & Gliding
Aero 2022
After a three-year gap, AERO returns to Friedrichshafen. S&G reports on the highlights of Europe's biggest aviation fair
Pilot profile: Phil Drake
With a love of the great outdoors, Phil Drake worked for many years as a farrier. A chance comment by a customer introduced Phil to gliding. Now the proud owner of a K-6, Phil is an excellent craftsman and enjoys all aspects of vintage gliding from restoration to rallies
In the crossfire
As glider pilots prepare for the season, Ukrainian club Buzova found itself in the middle of the Russian invasion. Herrie ten Cate talks to young pilot Andrii Lohvynchuk
Soaring with the best
Andrea Venturini learns from the experts at a training camp in Varese, Italy
The eagle has not landed…
Mike Randle reflects on a lengthy retrieve involving the wrong trailer and an intrepid shortcut home
Change of scenery
Excellent conditions for round three of the Winter Series enabled David Edwards to capture some stunning photographs
Days of cows and cables…
Ron Johns reflects on his early days, learning to explore the sky in a T-31 at the dramatically named Albatross Gliding Club
A dream come true: soaring the length of New Zealand
In what is believed to be a world first, father and daughter glider pilots Terry and Abbey Delore flew from one end of New Zealand to the other. Abbey reflects on this challenge
Ingo Renner
In February we said farewell to Ingo Renner. Bernard Eckey shares his memories of the gliding legend with Herrie ten Cate
Advisory 25: The elephant on your back
Ebenezer Grimshaw peers into yet another murky area that no-one likes to think about
Atkinson's law: The unique cumulus water furnace
Kevin Atkinson looks at the water furness in the first of a two-part article
Close encounters
Pete Stratten reminds us of the importance of using up-to-date technologies, plus a reliable back-up, to stay safe when flying
Click here to read G Dale's article on baling out
Click here to read Paul Sheffield's articles on Lookout
Proud moments
Andrew Jarvis talks to Phil Drake about the time-consuming, but very rewarding, process of re-covering a vintage glider
Future proof our airfields
BGA chairman Andy Perkins introduces a project exploring protection and opportunities for gliding clubs
Startling events
The BGA safety team describes research into coping with startle and surprise
Also in this issue:
BGA news; opinion; Gliding Gallery; Club Gallery; Club Focus – Highland; development news; news; BGA badges; obituaries; incident and accident summaries
Subscribe by direct debit now to save 50% on your subscription
Subscribe Now