June-July 23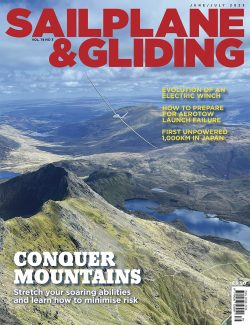 Want to conquer mountains? Learn how to stretch your soaring abilities while minimising risk in the June/July issue. You can also read about the first unpowered 1,000km in Japan, the evolution of an electric winch and how to prepare for an aerotow launch failure.
There are many things an experienced cross-country pilot can do to stretch soaring abilities: competitions; distance flights; and coaching. But if you haven't been mountain soaring you have missed a whole world of learning, challenge, fun experiences and – occasionally – scary stuff. G Dale tells us why we should venture into the mountains, and how to minimise the risks. It's essential to prepare for the challenges with a good instructor. G explains how mountain soaring is about understanding what you're doing, measuring the risks, making interesting and challenging flights, but still coming home safe at the end of the day.
Nine Japanese glider pilots have flown 1,000km flights overseas, but Kenshi Tagami has set the record for the first unpowered 1,000km in Japan. It took him 18 years from first aiming for the 1,000km in domestic wave to succeeding, but continued support enabled Kenshi to continue the challenge without giving up. The flight took advantage of Ou Wave – weather conditions in the Ou mountain range said to occur only a few days each year.
Skylaunch MD Adam Greaves returned from AERO Friedrichshafen in 2019 with an 'unwelcome' challenge. There had been 42 enquiries about the possibility of an electric winch. The arguments against the practicalities were many, but ultimately a company must be led by customer demand. Certainties gleaned from past winch builds had to be cast aside and the team sprang into action to build a product that would sit alongside Skylaunch's existing range in terms of longevity and reliability. Extensive testing was carried out at UK clubs over a six-week period, including Lasham where the launch rate each day is heavy work for any winch, with favourable results. The Evo 'Electrique' winch is now operating in Germany.
Aerotows were historically more reliable than winch launches. Today's professionally made winches and polymer cables are more dependable. Nonetheless we continue to expect winch launch failures, have plans to recover from them and practise these regularly. In contrast, some pilots' plans for aerotow failures are to 'travel hopefully', trusting any failure will be high enough for a return to the airfield. The BGA Safety Team highlights a steady trickle of broken gliders and injured pilots when decisions were rushed or options limited, and offers valuable advice on how both pilot and tug pilot should prepare for aerotow launch failures.
Also in this issue: BGA Chairman Andy Perkins says we should prepare to seize the day and make the most of long summer days. Mike Till is in the spotlight for our pilot profile. Paul Maddocks has a lengthy search for a K-2. Owen Sparkes experiences gliding in Hawaii. Ian Masson reflects on a landout in beautiful surroundings. How honeybees share the navigation style of the first pilots. Jordan Johnson bags Diamond height just 18 months after starting to glide. Jo Hoy reports on her Libelle's journey to Paris to appear in an exhibition. Ebenezer Grimshaw makes various attempts to wake up from a catatonic state. Kevin Atkinson talks about hitting a thermal plumb centre. Alison Randle looks at the benefits of mentoring. Pete Stratten looks at what airspace modernisation could mean. Andrew Jarvis reports on vintage events. Plus, many more of your stunning images in the Gallery pages.
Fly safely and have fun
Susan Newby
Editor, Sailplane & Gliding
Pilot profile: Michael Till
Retiring after a varied career in virology and the casino industry, based in both the UK and Zambia, The Gliding Centre's Mike Till now focuses on instructing. He has instructed at Hus Bus, Dunstable and in New Zealand, and says this is what has kept him enthused all these years
Japan 1,000km sets record
On 10 May 2021, Kenshi Tagami flew the first 1,000km unpowered glider flight in Japan. Kenshi explains how he did it
Search for a K-2
A lengthy search leads Portmoak's Paul Maddocks to a K-2b in Finland, which he imported and has restored to flying condition
Soaring in paradise
Owen Sparkes jumps at the chance of six weeks working in Hawaii (a paradise with a glider field)
Not textbook choice of field
North Wales GC's Ian Masson reflects on a 2018 landout in beautiful surroundings
A shared way of navigation
Study suggests that honeybees follow linear landmarks to find their way home, just like the first pilots
How electric meets demand
Skylaunch MD Adam Greaves reflects on how the company's Evo electric winch evolved from request to reality
Diamonds and Gold
Just 18 months after starting to glide, Bidford's Jordan Johnson bagged his Diamond height (twice in one day) and went on to complete his Gold badge the following day
Mountain high
G Dale explains why you should fly in the mountains and how to minimise risks
Libelle off on an adventure
Jo Hoy reports on her Libelle's journey to Paris to appear at an exhibition for famous architect Lord Norman Foster
Advisory 31: Emerging from hibernation
Ebenezer Grimshaw makes various attempts to wake up from a catatonic state
Atkinson's law: Skill drill number two
Kevin Atkinson looks at hitting a thermal plumb centre
Why mentoring benefits us all
Alison Randle looks at how mentoring is a reciprocal relationship and a powerful retention tool for clubs
Airspace: winners and losers
BGA CEO Pete Stratten looks at what modernisation could mean
Wooden wings are for ever!
VGC President Andrew Jarvis reports on the progress of the 50th anniversary yearbook and vintage events
Aerotow options
The BGA Safety Team considers how to prepare for aerotow launch failures
Also in this issue:
BGA news; opinion; Gliding Gallery; Club Gallery; Club Focus – Wyvern; development news; news; BGA badges; obituaries; incident and accident summaries; AAIB bulletin
Subscribe by direct debit now to save 50% on your subscription
Subscribe Now