October – November 2009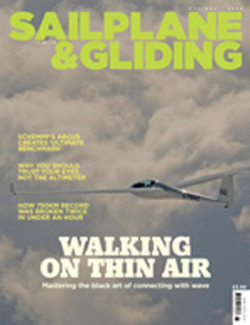 Want to master the art of connecting with wave, or find out why you should trust your eyes, not the altimeter? Interested in the sailplane that's setting new standards, or how one club saved funds with a reconditioned winch? Take a look in the October-November issue of S&G.
Our front cover shows Steve Derwin discovering just how much fun wave flying can be during Edensoaring's open week. After what seemed like an eternity of trying to master the art of connecting with wave, Steve found that it's a bit like waiting for a bus. When, eventually, one came along (a wave flight, not a bus!), it was followed by two more in quick succession.
Record breakers also followed in quick succession recently. A 757km flight on 14 June entitled 22-year-old Tom Smith to therecord for youngest 750km. Forty minutes later, 21-year-old Will Chappel landed out in the same field as he had in a failed 750km attempt two weeks earlier but, at 768km, his flight made him the new record holder.
When faced with landing out it pays to have read the second article in Steve Longland's series on aircraft instruments, in which he explains how the altimeter works and what it measures. Your chosen field could be hundreds of feet above or below the point from which you launched, but unless you know the local QFE you won't know how great a disparity there is between what your eyes tell you (which – low down – is likely to be right) and what the altimeter is saying (which probably isn't).
Jochen Ewald has been feasting his eyes on Schempp's Arcus with its elegant new wing shape. He says that it offers gentle flying characteristics and single-seater handling qualities similar to those of a 15/18m glider, providing real fun for its pilots – even if they are not competition pilots pushing to win. This eyecatcher is said to be the new 'ultimate benchmark' of the 20-metre two-seater class and likely to prove a great challenge for its competitors to equal.
Also in this issue: BGA Chairman Patrick Naegeli reflects on how we have everything we need to continue to make successive ages of gliding golden. BGA Development Officer Alison Randle looks at the do's and don'ts of communicating bequest possibilities. Surrey Hills GC tells the story of its 'new' winch. Pete Stratten looks at the need to act accordingly on individuals' needs in order toincrease participation. Loek Boermans concludes his series on how recent aerodynamic developments at Delft University are being applied in high-performance sailplanes. Sarah Kelman relives her experience as the 'token girl' at the World Air Games in Turin, while Ed Johnston shares his tale of borrowing a glider to compete at Nitra. Two young pilots talk about their scholarship experiences and Southdown GC celebrates the centenary of the world's first recorded flight. Wally Kahn takes a look at Matthew Freudenberg's book Clear Air Turbulence – A Life of Anne Burns.
Fly safely and have fun.
Susan Newby
Editor, Sailplane & Gliding
Exploring how your club can benefit from bequest possibilities
Evidence shows that people are more likely to make bequests if they know it is a possibility. BGA Development Officer Alison Randle looks at the do's and don'ts of communicating with club members about the possibilities
Surrey Hills gets a 'new' winch
With little resources for anything but second-hand aircraft and winches, Surrey Hills came up with a plan for a re-engineered winch using many components refurbished to nearly-new condition. Adrian Hewlett reports on the club's 'new' Skylaunch winch
Arcus – setting new standards
Jochen Ewald takes to the skies in Schempp-Hirth's Arcus which, with its new wing shape, not only introduces an elegant new silhouette into the air, but creates the 'ultimate benchmark' in the 20-metre two-seater class
The shape of things to come, part three
Loek Boermans concludes his series on recent aerodynamic developments at Delft University and how they are being applied in high-performance sailplanes
Antics up in the air
The World Air Games, the aviation version of the Olympic Games, was held in June at Turin. Sarah Kelman (the only female competitor) reports
The circuit
BGA National Coach Mike Fox offers more tips and advice for those new to gliding in the third article in his series
Student formula for fun
Colin Field reports on the Inter-University Task Week, held this year at Wolds GC
Record breakers
At 18.50 on 14 June, Tom Smith broke the record for youngest 750km. Forty minutes later the record was taken by Will Chappel
Walking on thin air
Steve Derwin masters the black art of connecting with wave and has three magical flights in quick succession, achieving his Diamond height in the process
Instruments – the altimeter
In the second part of a series on how aircraft instruments work and what they are really measuring, Steve Longland focuses on the altimeter, which doesn't (as many of us think) measure height
Nitra from an open cockpit
Ed Johnston's tale of a borrowed glider and an international comp
Aided flights
Two young pilots talk about their scholarship experiences
Truly a day to remember
One hundred years to the day, Southdown GC celebrated the world's first recorded soaring flight, as Dave Clews reports
Also in this issue:
BGA news; your letters; Tailfeathers; Gliding Gallery; obituaries; club gallery; club focus – Dumfries; club news; BGA Badges; incident and accident summaries
Subscribe by direct debit now to save 50% on your subscription
Subscribe Now