October – November 2010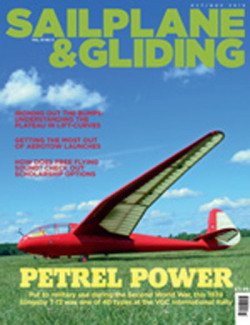 If you want to get the most out of your aerotow launches and iron out any bumps on landing, then look no further than the Oct/Nov issue of S&G. You can also read the unmissable report from by Jay Rebbeck on the highs and lows of the 2010 Unflapped World Championships in Slovakia.
Graham Saw's colourful Petrel features on our cover. Thought to have been put to military use during the Second World War, this Slingsby T-13 Petrel has been flown at many VGC International Rallies, including at Tibenham this year. Just the third time the event has been held in the UK, this year 99 vintage gliders took part. Martin Simons reports.
Aerotowing may look relatively simple, and it is if you are properly trained, but there are some common misconceptions that can make things harder than they look and spoil your day. BGA National Coach Mike Fox sets us straight. At the other end of your flight, Karel Teermat asks could bumpy landings be a thing of the past? His article explains what you need to know for a better understanding of the plateau in lift-curves.
The Unflapped World Championships held earlier this year at Prievidza, Slovakia, had its fair share of highs and lows. Team GB brought home a team flying medal. Don't miss Jay Rebbeck's report of this challenging mountain competition – an incredible experience, but one which left him questioning his motivation to fly another mountain worlds in a hurry.
It is recognised that, for the UK to remain a global player in aviation, we need to be innovative and invest in fresh blood. This investment is taking the form of paid-for flying. Andy Perkins looks at the sponsorship opportunities available and four scholarship recipients reveal how this 'free flying' has benefited their flying.
Also in this issue: BGA Chairman Patrick Naegeli praises the unsung heroes of our sport and looks at EASA's review of comments received to the initial consultation on future medical requirements. BGA Development Officer Alison Randle looks at the perhaps dull, but essential, role of club governance. Colin Field reports on the 32nd Inter-University Gliding competition. Frank Pozerskis tells the fascinating tale of how he got into gliding. Pat Greer and Mike Newman report on the first World Advanced Glider Aerobatic contest and 10th FAI European Glider Aerobatic Championships at Unlimited level. Ian Easson describes how he gained his NPPL (SLMG) rating. Steve Longland continues his look at Variometers, this time looking at the electronic versions. Jochen Ewald brings news of the SG 38 undergoing a performance evaluation. John Turner explains why he thinks clubs should target the 'Silver Pound'. Josh Brownlow continues a family tradition with his first solo. Bernard Hicks explains how he made the most of a year-long flying restriction. We've some more truly stunning images in the Gallery pages. Last, but by no means least, it's the end of an era as Platypus retires after 50 years of writing. He will be missed.
Safe landings
Susan Newby
Editor, Sailplane & Gliding
Essential role of club governance
Governance is a dull and uninteresting subject until it becomes essential – usually during a time of animated discussion. Alison Randle talks about how having good procedures in place ensures the smooth running of clubs
Students soar
Colin Field reports on the 32nd Inter-University Gliding Competition, which was held this year at Bicester GC, from 7-15 August
Live the dream
Lithuanian-born Pranas (Frank) Pozerskis dreamt of becoming a pilot from the age of six. By 15, he had designed and built his own glider (later grounded). He then funded his dreams by starting a business
World first for aerobatic team
Maz Makari opened the first World Advanced Glider Aerobatic Contest and came away with a Silver medal. Team members Pat Greer and Mike Newman report
A view from the left-hand seat
When Ian Easson was offered a share in the SGU Falke 2000, he didn't have to think twice before accepting. But first came the challenge of 'going back to school' to gain his NPPL (SLMG) rating
Instruments: Variometers Part 2
An electronic variometer can respond instantly to any change in pressure, is more sensitive and can do many things that mechanical variometers can't – but does quicker mean better? Steve Longland investigates
Vintage rally
The 38th VGC International Rally was held at Tibenham. It is just the third time the event has been held in the UK and this year 99 vintage gliders took part, some dating back to the 1930s. Martin Simons reports
SG 38 evaluated
Jochen Ewald reports on an event perhaps as historic as the glider itself as the SG 38 (EoN Primary) undergoes a performance evaluation
Aerotowing: a glider pilot's perspective
BGA National Coach Mike Fox highlights some misconceptions about aerotowing that can make things harder than they look and spoil your day
Prievidza: 2010 Unflapped World Championships
Jay Rebbeck reports on the highs and lows of a challenging mountain competition, from which Team GB came home with a medal
Iron out bumps
Karel Termaat explains what pilots need to know for a better understanding of the plateau in lift-curves
Age no barrier
John Turner suggests that gliding clubs should target the 'Silver Pound'
Solo wins the day
Coming from a strong aviation background, it was only fitting that 16-year-old Josh Brownlow's first solo – a flight of just over an hour – put him in the lead during Norfolk GC's soaring week
They'll never pick me
No? You'd be surprised how many scholarship opportunities exist. Andy Perkins and four scholarship recipients talk about how these scholarships can enhance progress
Daisy did RIAT
Oxford GC exhibited its Air Cadets liveried T-21 (Daisy) at RIAT 2010 at Fairford, drawing the attention of several hundred former Air Cadets. David Weekes reports
A year out
Faced with a year out, Bernard Hicks put the time to good use brushing up his flying skills with a safety pilot in the back seat
Also in this issue:
BGA news; your letters; the very last Tailfeathers; Gliding Gallery; AAIB bulletin; club gallery; club focus – Southdown; club news; BGA Badges; incident and accident summaries
Subscribe by direct debit now to save 50% on your subscription
Subscribe Now