October – November 2015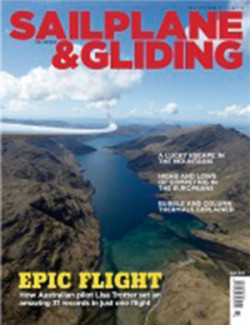 Read about an Australian flight that set a record for the number of records broken in one flight – an impressive 31! – and the Bronze medals brought back from the Europeans in the Oct/Nov issue of S&G. Closer to home, you can learn how understanding the difference between bubble and column thermals can influence cross-country plans
Outback Australia gets remote pretty quickly and trying to avoid large areas of unlandable or unsurvivable terrain significantly reduces task possibilities. That was no deterrent for Lisa Trotter, who had dreamt of achieving a 1,000km flight for many years. When she did, Lisa also set an astonishing 31 records in the one flight. Six were general records, but the most challenging of all the records for Lisa was the World Feminine 15-metre triangle distance. She says: "Feminine records give women visibility and I am pleased to push the standards of those records high."
If you're looking for days with the potential for your own personal best or record setting, do you know the difference between bubble and column thermals and which gives the best potential for higher cross-country speeds and distances? Tony Cronshaw asks club coach Kevin Atkinson, who explains the physical structures and looks at how a 'bubble day' or 'column day' can influence task-setting.
Weather conditions in Rieti proved challenging. Thunderbolts and lightning may indeed have been very, very frightening (with a mystery hole in the wing for Leigh Wells' Ventus 2a, landing after multiple huge flashes of lightning on final glide), but Team GB flew a memorable Europeans and brought home the overall team Bronze medal. With relatively low hours flying in mountains prior to the competition, Ian MacArthur found Rieti an incredible experience. He says: "Rieti is beautiful, exciting, scary and hot. I'm going back soon."
The mountains in Spain had become comfortable surroundings for Chris Lewis after seven years. Perhaps too comfortable, as Chris discovered when a series of bad decisions led to a life-threatening situation during a flight from Santa Cilia. Running out of options in the Spanish Pyrenees, Chris and P2 Murray Armes spotted the small patch of green that was to save the day – and possibly their lives.
Also in this issue: John Williams and Pete Stratten provide an update on TAG Farnborough's detrimental airspace change proposals. Team GB reports from France, where the Juniors were preparing for the Worlds. Mark Dalton discovers the Silent is golden when in northern Italy for a flight in Alisport's electric-powered self-launcher. Richard Crockett reviews the DVD Cloudstreet: Soaring The American West. Gliding Gallery showcases some stunning images taken at the Open and 20m Two-Seater Nationals at Gransden Lodge. David Rhys-Jones investigates the chaotic air movement below the inversion and how to take advantage of rotor lift. David Innes reflects on how an itchy cow won him task week. Andy Davis reports on the Europeans in Hungary, where he won a Bronze medal. Qin Cao explains why Portmoak is a paradise for early solo pilots during an annual inter-uni exped. Two newcomers to Competition Enterprise reflect on a relaxed approach to some challenging and exciting flying. Bruce Stephenson reviews the book LS Sailplanes, from the LS1 to LS11. BGA Development Officer Alison Randle highlights the falling numbers of instructors and inspectors at clubs. Bruce Stephenson reports on the 43rd VGC International Rally. Plus there are many more of your stunning images in the Gallery pages.
Fly safely and have fun.
Susan Newby
Editor, Sailplane & Gliding
How a column thermal forms
Tony Cronshaw asks coach Kevin Atkinson about the difference between bubble and column thermals
Flight breaks 31 records
Australian glider pilot Lisa Trotter's declared triangle distance of 1,026.8km set a record for the number of records broken in the one flight
In training for Junior Worlds
Team GB reports from France, where the Juniors were preparing for the Worlds, being held in Australia at the end of this year
2015 Europeans: Rieti
Team manager Graham Garnett sets the scene for the Rieti Europeans and Ian MacArthur reveals the highlights (and lows) of competing in the Club Class
Silent's over Lake Maggiore
Mark Dalton discovers the Silent is golden when in northern Italy for a flight in Alisport's electric-powered self-launcher
Cloudstreet
Richard Crockett reviews the DVD Cloudstreet: Soaring the American West
Lucky escape in mountains
Chris Lewis reflects on how a small patch of green saved the day (and possibly his life) during a flight in the Spanish Pyrenees
Rotor lift and getting there
David Rhys-Jones investigates the chaotic air movement below the inversion and how to take advantage of lift
Right moo-ves
David Innes reflects on his first (and quite possibly his last) competition, and how an itchy cow won him 'task week'
2015 Europeans: Ocseny
Friendliness and hard work are abiding memories of the Europeans held in Ocseny, Hungary, for Andy Davis, who brought home a Bronze medal
Soaring beyond the wall
Oxford University's Qin Cao explains why Portmoak is a paradise for early solo pilots during the annual inter-uni expedition
Tasks that keep it interesting
Two newcomers to Competition Enterprise reflect on a relaxed approach to some challenging and exciting flying
LS Sailplanes
Bruce Stephenson reviews the book LS Sailplanes, from the LS1 to LS11
Going Dutch
Terlet, near Arnhem in the Netherlands, was the venue for an enjoyable 43rd VGC International Rally, reports Bruce Stephenson
Also in this issue:
BGA news; your letters; Gliding Gallery; obituaries; Club Gallery; Club Focus – Herefordshire; club news; Vintage gliding; BGA badges; incident and accident summaries
Subscribe by direct debit now to save 50% on your subscription
Subscribe Now