Oct-Nov 2020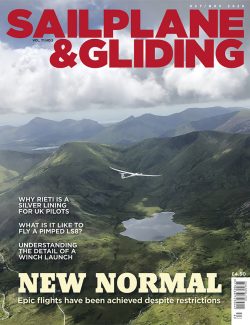 There have been some epic flights, despite limitations, as we get used to a 'new normal'. Read about Tim Macfadyen's 750km flight in his Arcus in the Oct/Nov issue of S&G and discover Adrian Emck's 'secret' for his frequent long flights in his K-6. It also includes the trials and tribulations of a return to flying for an early-solo, plus essential safety advice on understanding the detail of a winch launch. Plus, you can read what it is like to fly a pimped LS8.
Tim Macfadyen's 750km flight with Geralyn might be the first two-seater 750km flown in the UK by a husband and wife team. They have been enjoying their cross-country adventures even more since buying an Arcus. Tim says: "No sane pensioners would fly 12 hours' drive from home on a dubious day without an engine. Even if you rarely use the engine, having it there means that even on not particularly good and reliable days you can happily enjoy a grand day out to much more exciting places."
You don't have to have a super ship to go far. Adrian Emck regularly achieves long distances in his K-6. He flew a total of 1,000km over two consecutive days in July. What's his secret? It's down to applying research findings on cockpit comfort. Adrian says that gliding prides itself on being high-tech super advanced, but that when it comes to cockpit human measurement, resides firmly in the year 1926 mindset. If you are comfortable in your cockpit, you can fly for longer and achieve greater distances.
While tales of epic flights were emerging, pre-lockdown early-solos were impatiently waiting for their turn to return to the skies. Adrian Morgan reports how the latter stages of the easing of lockdown were particularly galling, hearing tales of gliders cavorting in perfect conditions while 'mere solos' had to sit and watch and wait. Before he could fly again, Adrian did make good use of his time using lockdown to pass his Bronze exam via Zoom.
Glider pilots perform what is akin to an aerobatic manoeuvre every time they rotate into a winch launch. It is not a manoeuvre that can be flown 'by numbers': it requires knack and feel, as well as prompt and accurate responses if something goes wrong. The BGA safety team reminds us of the vital importance of understanding the detail involved in a winch launch.
For 20 years, the LS8 and Discus 2 have had a monopoly on, and a constant battle for, the top places in the Standard Class. Which is the best? Bernt Hall flew the LS8-e neo and finds it to be an easy-to-fly glider with an edge over the 'old 8', with or without FES. He says it is a delight in thermals, climbs easily and centres well. The benefits of the new neo winglets are most noticeable when flown heavily loaded, with water up to a maximum weight of 525kg/m2. It is also suitable for club use and for those who don't fly as often as they may like to.
Also in this issue: BGA Chairman Andy Perkins reflects on how the situation has sharpened the focus of the BGA to stay fit for the future. Sam Coole, 18, achieves Silver on his first cross-country flight. Andrew Woolley imagines a Spitfire thinking he had downed him after a fierce dogfight. Craig Lowrie's hard work secures a LOA to help Southdown pilots get home. The juniors enjoy a training week at Issoudun. Stephanie Smith keeps her Dad's memory alive through the restoration of his beloved K-6. UK pilots find the silver lining with a legendary Italian competition. Rebecca Bryan reports on an AAT coaching event for the WWGC. Ebenezer Grimshaw uncovers another area of murky gliding horror for newbies. Kevin Atkinson discusses his law on dynamic mixing and flows in the thermal factory. Alison Randle looks at managing waiting lists. Pete Stratten reports on easing us back to 'normality'. Bruce Stephenson reflects on the birth of gliding. Plus many more of your stunning images in the Gallery pages.
Fly safely and have fun
Susan Newby
Editor, Sailplane & Gliding
G&T: great mix
Tim Macfadyen reflects on what might be the first two-seater 750km in the UK flown by husband and wife
But why don't people listen?
Adrian Emck revisits the 'secret' behind his regular long K-6 flights, but predicts many of you will ignore advice given
A pimped LS8
Bernt Hall flies the LS8-e neo and reports that, with or without FES, this easy-to-fly sailplane has the edge over an 'old 8'
A first with a silver lining
Surrey Hill GC's Sam Coole, 18, achieves his Silver on his first cross-country flight
Shot down by a Spitfire
Andrew Woolley reflects on a field landing that attracted the interest of the emergency services and a passing Spitfire
Agreement to find way home
Seven years of hard work by Southdown GC's Craig Lowrie pay off with a LOA (Letter of Agreement)
Quality time at Issoudun
Finn Sleigh introduces a report on this year's junior training week in France
Bymbo is back
Stephanie Smith keeps her Dad's memory alive through the restoration of his beloved K-6
Rieti luck!
With UK nationals cancelled, Phil Jones realised that this was the ideal opportunity to fulfil an ambition to take part in an Italian competition with a legendary reputation
World class
Rebecca Bryan reports on an AAT coaching event for the Women's World Gliding Championship 2022 squad
The upsides of lockdown…
Adrian Morgan uses lockdown to pass his Bronze exam, and eagerly returns to the sky
What they didn't tell you – advisory 15: going on an expotition
Ebenezer Grimshaw uncovers yet another area of murky gliding horror for newbies
Atkinson's law on dynamic mixing and flows in the thermal factory
Kevin Atkinson investigates in a two-part article
Easing us back to 'normality'
An update from BGA CEO Pete Stratten
A sport is born
One hundred years: Bruce Stephenson reflects on the importance of the first Rhön Gliding Competition, 1920
Safe rotation
The BGA safety team reminds us of the vital importance of understanding the detail of a winch launch
Also in this issue:
BGA news; opinion; your letters; Gliding Gallery; Club Gallery; Club Focus – Bristol & Gloucestershire; development news; news; BGA badges; obituaries; incident and accident summaries
Subscribe by direct debit now to save 50% on your subscription
Subscribe Now