Oct-Nov 2022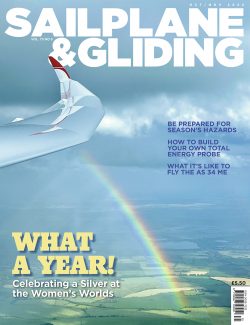 From international medals won to what it's like to fly Schleicher's electric self-launching AS 34 Me, you can read about it in the Oct/Nov issue. Find out how to build your own TE Probe, plus essential advice on the typical hazards faced in the coming winter months.
Some of the world's top sportswomen were at The Gliding Centre, Hus Bos, for the Women's World Gliding Championship in August. A successful event, it raised the profile of gliding through social media, podcasts, articles in the press, and TV coverage. Among those competing were two Ukrainian pilots, able to take part following a fundraising campaign and the generous loan by British pilots of gliders and camping equipment. Competitors were reported to have had such a good time they didn't want to go home. Claudia Hill started preparing for the Worlds two years ago and that preparation certainly paid off with a Silver medal in the Club Class.
Bernard Eckey was delighted to leave behind winter in Australia and head off to see family and friends in Europe. A highlight of the trip was a visit to the Schleicher factory and the opportunity to fly the AS 34 Me. The performance of this Standard Class glider exceeded Bernard's expectations. He found it easy to fly with 'almost unbelievably simple' motor management. Schleicher MD Uli Kremer explained the thinking behind the development of the AS 34 Me to Bernard. Aimed at clubs and individual pilots, the glider is for aviators who are looking for total independence and the freedom to fly whenever they want and wherever they want.
Years ago, some people made their own TE Probes all the time, but now it's a lost skill for something that can be made in moments. With a potential supply problem, Chris Chapman suggested revisiting Frank Irving's article from 1978. In this article, Frank compares his probe with Braunschweig and Nicks probes in wind tunnel tests. Chris has also provided full instructions on how to build your own Total Energy Probe.
In the winter months, for much of the country gliding is constrained to training and short flights local to a familiar airfield. So why are there so many winter accidents? Winter brings its own hazards and a good quarter of winter accidents are related to weather and the length of the day, whose effects can catch us by surprise, particularly when they're after a clear, hot and dry summer. The BGA Safety Team highlights some typical hazards of the coming season.
Also in this issue: BGA Chairman Andy Perkins reflects on a record year of cross-country activity and the success of the Women's Worlds held at Hus Bos. Rod Witter is in the spotlight for our pilot profile. Martyn Oliver finds himself in an emergency when his rudder cable snapped in flight. Crewing at the Europeans changes Martin Roberts' mind about competitions. Tim Fox reports as Borders' refinished K-21 returns from Poland. Rex Hayden reflects on an eventful first cross-country. VGC President Andrew Jarvis reports on faraway places with strange-looking planes. Andrea Venturini discovers why it's so important to choose a field before trying to save the day. Grimshaw exposes the Big Snag behind electronic gadgetry. Kevin Atkinson continues to explore the water furnace. Mike Armstrong reports on the Camphill Vintage Rally. Alison Randle looks at the treasure to be found in valuing our clubs as community sports facilities. Pete Stratten reflects on the importance of instructing. Plus, many more of your stunning images in the Gallery pages.
Fly safely and have fun
Susan Newby
Editor, Sailplane & Gliding
Pilot profile: Rod Witter
Lleweni Parc is in many ways the realisation of a soaring dream for Rod Witter. Realising that the Snowdonia wave was always in phase with the Vale of Clwyd, Rod set out to find the perfect site to take advantage of that fantastic wave – and found it at Lleweni in the late 1980s
Responding to rudder failure
Martyn Oliver found himself in an emergency situation when the rudder cable on his Libelle snapped during a flight
A pilot's view from the tent
Martin Roberts did not have the slightest interest in competitions, but crewing for Paul Fritche has changed his mind
Back looking good as new
Technical officer Tim Fox concludes the tale as Borders' refinished K-21 returns from its trip to Poland
A new total energy head
With a potential supply problem for Total Energy Probes, Chris Chapman suggested revisiting Frank Irving's article
Click here for full instructions on building your own Total Energy Probe
Spirit clouded my judgement
Rex Hayden reflects on his first cross-country, back in 1972, which certainly had its moments
Flying the AS 34 Me
A highlight of Bernard Eckey's trip to Schleicher was the chance to fly its all electric self-launcher, suitable for everyday use by pilots and clubs
Faraway places with strange-looking planes!
The Vintage Glider Club spreads its wings once more for a successful Rendezvous in Italy and International Rally in Slovenia. President Andrew Jarvis reports
What a gliding year!
Claudia Hill takes Club Class Silver in the Women's Worlds at Hus Bos in August
Learning from my big mistake
Andrea Venturini's first landout teaches him why it's so important to choose a field before trying to save the day
Advisory 27: sat nav struggles
Grimshaw fearlessly exposes the Big Snag behind electronic gadgetry for newbies (and some oldies too!)
Atkinson's law: The water blast furness
Kevin Atkinson looks at the water furness in the third part of his article
Capstans are six of the best
There was flying every day at this year's Camphill Vintage Rally. Mike Armstrong and Steve Marlor report on fun and flying
Time to pass on experience
BGA CEO Pete Stratten reflects on the importance of instructing
Winter hazards
The BGA safety team surveys some typical hazards of the coming season
Also in this issue:
BGA news; opinion; Gliding Gallery; Club Gallery; Club Focus – Edgehill Gliding Centre; development news; news; BGA badges; obituaries; incident and accident summaries
Subscribe by direct debit now to save 50% on your subscription
Subscribe Now