Oct-Nov 23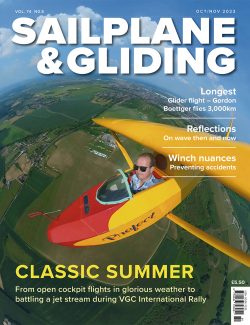 From hi-tech night vision goggles required for a 17-hour 3,000km flight to the vintage goggles needed during short open cockpit flights, you can read about these experiences in the Oct/Nov issue. You can also discover how pilots have extended their boundaries in wave flights and get a valuable reminder of how to prevent winch launch accidents.
When Gordon Boettger launched from Minden, USA, at 2.30am on 19 June, his focus was to practise with night vision goggles and see how cold it got at high altitudes. Gordon was flying an Arcus with some unique features, including an auto flap system, night position, strobes on and night vision goggles capability (NVG). The instruments are specially coated to comply with the NVG. With Air Traffic Control understanding the significance of the flight as it developed, the distance flown was 3,058km. It is now unofficially the longest glider flight ever. The IGC recognises a maximum of three turnpoints, but from the standpoint of OLC or WeGlide, who recognise up to five turnpoints, it is the longest flight in a glider. Now Gordon is dreaming of a two-day event in wave.
There were inspiring wave flights back in the 60s with basic equipment. Jack Harrison and Sant Cervantes look at how pilots have extended their boundaries as they learn how wave works and as technology advances. Jack reflects on getting the weather forecast from TVs, without the all-important isobars, and a newspaper that published a forecast chart. There was a lot of guesswork involved. Jack was one of the pioneers on the internet with 'Weatherjack' as met data became available on the ground and in the air. Now dedicated gliding weather sites, such as RASP, TopMeteo and SkySight, offer data enabling informed decisions as to what the soaring day may bring. Sant still loves using the tephigram for spot interpretations and says that for wave flying satellite photos are a terrific tool, which he uses a lot for post-fight analysis. Moving maps have allowed pilots to fully utilise wave and since then there has been no looking back.
During a summer with some weather extremes, the Vintage Glider Club found itself battling a jet stream during its 50th International Rally. Appropriately, the UK was host to the VGC's 50th anniversary events. The Rendezvous was held at Nympsfield, moving across to Aston Down for the International Rally. The BBC covered the rally for the local Points West programme, with interviewer Will Glennon taking a real interest in activities. VGC President Andrew Jarvis reports on some of the splendid vintage gliders taking part in this historic event, which saw about 80 vintage gliders at Cotswold Gliding Club and visitors from 13 countries, including Canada and the USA.
The BGA Safe Winch Launch initiative in 2006 significantly reduced the annual number of fatalities and serious injuries but recently winch launch accidents have begun to reappear. Whether this is due to new pilots, perhaps unaware of the situation 20 years ago and who might not appreciate its severity, or older pilots who may have forgotten and drifted into bad habits, it is time for us all to reflect on the Safe Winch Launching advice. The BGA Safety Team highlights some winch nuances and reminds us of the wealth of information available to ensure winch launching accidents don't make a come-back.
Also in this issue: BGA Chairman Andy Perkins reflects on cause for celebration this summer. John Hull is in the spotlight for our pilot profile. Joshua Rieger continues a look at WeGlide, this time focusing on analysis tools. Teddy Ong and other competitors report on the 2023 Inter-unis. Aidan Clark reflects on a landout when the weather didn't behave. CFI Gavin Wrigley looks at how the Omarama Gliding Club overcame a global pandemic and beauracy. Grimshaw goes downside up. Kevin Atkinson faces reality. Yvonne Elliott talks about the new BGA Women's Advocate role. Pete Stratten reflects on what the BGA is doing to help clubs with succession planning. The BGA Safety Team discusses some details of safe winch launching. Joey Beard looks at mental health awareness in our sport. Plus, many more of your stunning images in the Gallery pages.
Fly safely and have fun
Susan Newby
Editor, Sailplane & Gliding
Pilot profile: John Hull
In the spotlight for this issue's Pilot Profile is BWND GC's John Hull. With all three Diamonds, he has 3,500 hours flying, including 1,250 instructing. John has flown around 800+ hours tugging in all sorts of tail draggers with another 650 in motor gliders
Wave: then and now
From inspiring flights in the 60s with basic equipment, how have pilots extended their boundaries as they learn how wave works and as technology advances? Jack Harrison and Sant Cervantes report
Take the next step 2
In the second of a three-part series Joshua Rieger looks at WeGlide's analysis tools, which aim to provide the pilot with much more than just post-flight analysis
Unbreakable bonds and new heights
Soaring beyond boundaries as the Inter-unis 2023 unites skyward spirits at Gransden Lodge, report from Teddy Ong
When the weather doesn't behave
Aidan Clark reflects on a landout during the 2023 Inter-unis
Battling a jet stream
The VGC Rendezvous and 50th International Rally took place in the UK at Nympsfield and Aston Down, where flying and fun was had despite the weather, reports Andrew Jarvis
Omarama: a club that was born again
A global pandemic and bureaucracy brought a sad end to gliding at a popular New Zealand location. Now the club is growing again and attracting worldwide visitors. Gavin Wrigley reports
Epic 3,000km USA flight
Gordon Boettger launched at 2.30am on 19 June intending to practise with night vision goggles and see how cold it got at high altitudes. What resulted was the longest glider flight yet
Advisory 33: Going downside up
Ebenezer Grimshaw finally goes where few care to follow
Atkinson's law: Facing reality
Kevin Atkinson looks at opportunities to become an accomplished soaring and cross-country pilot
New BGA Women's Advocate role
Yvonne Elliott reports on the aims and objectives of this role in making gliding a sport open to all
Planning to meet future demands
BGA CEO Pete Stratten looks at the importance of succession planning and what the BGA is doing to help clubs
Winch nuances
The BGA Safety Team discusses some details of safe winch launching
Also in this issue:
BGA news; opinion; Gliding Gallery; Club Gallery; Club Focus – Cotswold; development news; news; BGA badges; obituaries; incident and accident summaries
Dartmoor Club Focus
click here for a corrected version of the Aug/Sept Club Focus
Subscribe by direct debit now to save 50% on your subscription
Subscribe Now