October – November 2012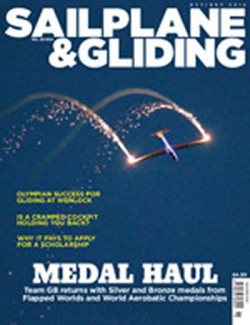 As life gets back to normal after the Olympics, Team GB is celebrating a clutch of medals from the Flapped Worlds and World Aerobatic Championships, while gliding was successfully introduced as an Olympian sport at the Wenlock Games. Is a cramped cockpit holding you back from fulfilling your potential? Would a financial helping hand boost your progress? Find out more in the Oct-Nov issue of S&G.
When Mike Young discovered that Uvalde was host for the 2012 WGC he was keen to secure a place in the British team. An 18-metre Nationals win helped him turn the dream into reality; Mike returned with a Bronze medal and Team GB was awarded Silver in the Team Cup. Having woken each morning in Uvalde wondering not if they were going to fly, but how far, Mike is talking about coming out of retirement for Uvalde 2032!
Richard Brown and David Morgan experienced their first World Glider Aerobatic Championships, with David achieving a Bronze medal. Richard describes it as an amazing week and says that the beauty of aerobatics is that, while you're always striving for perfection, you have a lot of fun on the way there.
The skies above Wenlock were full of colour, as wheeling gliders fought for position during gliding's introduction as an Olympian sport. With 39 gliders and 51 pilots gathered from eight countries, gliding represented one of the most international and colourfulevents of the 2012 Wenlock Olympian Games, securing its place in future games.
The Lasham cockpit comfort survey indicated that completely comfortable pilots flew approximately twice as many hours as those experiencing even mild discomfort. So why do manufacturers continue to design cockpits that just don't fit a large number of glider pilots? Adrian Emck investigates.
Another potential constraint on progress, particularly for the younger pilot, is financial. However, there are many bursaries and scholarships available for every aspect of our sport. Why not apply? Thomas Evans talks to three juniors whose flying has benefitedfrom a financial boost.
Also in this issue: Pete Stratten explains the importance of everyone understanding the issues before making a transition to EASA pilot licensing. Bernard Eckey offers more soaring tips, with a focus on learning from our mistakes. Martin Simons recalls his first glimpse of a glider, at a nationals comp in July 1939. Alan Lapworth investigates a weather-making wind channel close to the surface that can catch pilots by surprise. Glide Omarama's writer-in-residence Rebecca Loncraine discovers the parallels between gliding and creative writing. Readers' book reviews include Attack on Tritney and Secrets of the Spitfire. Trustee Dave Martin highlights the work of the Caroline Trust and asks for your support. BGA Development Officer Alison Randle asks what we can learn from the sporting 'elite'. Peter Berridge describes the construction and benefits of a polytunnel hangar at the Vale of the White Horse. Finnish pilot Helena Ruokolainen reflects on the challenges of gliding in the UK, plus more of your truly stunning images in the Gallery pages.
Fly safely and have fun
Susan Newby
Editor, Sailplane & Gliding
Preparing for pilot licensing
It's imperative that everyone understands the issues before making a transition to EASA pilot licensing, medical or training requirements. BGA Chief Executive Pete Stratten explains, with the emphasis on preparing for pilot licensing
Uvalde Worlds
Mike Young reports from the Flapped Worlds at Uvalde, where he came third in the 18-metre Class and Team GB won Silver in the Team Cup
Swift moves
Richard Brown reports from the 2012 World Glider Aerobatic Championships
Cramped cockpits
Is a cramped cockpit holding you back? Adrian Emck looks at why manufacturers are designing cockpits that just don't fit a large number of glider pilots
Dealing with our mistakes
To learn from our mistakes, we have to realise that we are making them, says Bernard Eckey
Fall of the Petrel
Martin Simons recalls the day in July 1939 when he got his first glimpse of a glider and was totally overcome by their beauty
Low-level jets
Regular cross-country pilots will be familiar with the jet stream, but another weather-making channel closer to the surface can catch pilots by surprise. Alan Lapworth investigates
The write stuff
Rebecca Loncraine spent a season as Glide Omarama's writer-in-residence and was surprised to discover many parallels between gliding and creative writing
Olympian Games
VGC secretary Bruce Stephenson reports on gliding's introduction to the Wenlock Olympian Games
Build a future
Trustee Dave Martin highlights the work of the Caroline Trust, which has supported many young pilots over the past 12 years
It pays to apply
Competition is tough, but bursaries and scholarships are available for every aspect of our sport. Thomas Evans talks to three juniors about how a financial boost has helped their progress
A polytunnel solution
Peter Berridge reveals how a daydream became a reality at the Vale of the White Horse Gliding Club
An experience
Finnish pilot Helena Ruokolainen reflects on the challenges of gliding in the UK
Also in this issue:
BGA news; your letters; Gliding Gallery; book reviews; obituaries; club gallery; club focus – Northumbria; club news; vintage gliding news; BGA badges; incident and accident summaries
Subscribe by direct debit now to save 50% on your subscription
Subscribe Now