October-November 2017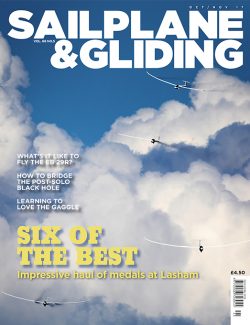 Team GB gave an impressive performance, with six medals won when the Europeans came to Lasham. Read about it in the Oct/Nov issue of S&G, where you can also learn what it is like to fly Binder's very impressive EB 29R. If you are still aspiring to become a champion, find out what clubs are doing to help pilots transition to long-term gliding enjoyment.
Preconceptions about the British weather mean the UK is often overlooked as a venue for international competitions. With 10 soaring days in the 18m and Open Class and seven in the 15m Class, the Lasham Europeans fared better than a number of recent international competitions. Normal club operations continued alongside the Europeans, with the comp grid being trumped on one day by the club grid of 85 gliders. Some remarkable launch rates were achieved. Six medals were awarded to Team GB, including a Silver in the Team Cup.
All three medals in the 18m Class of the European Championships at Lasham were awarded to pilots flying Schempp-Hirth's new Ventus. Other pilots were overheard commenting that they wished they had an EB 29 like Michael Sommer, who went on to win the Open Class. Binder's EB 29R is the newest evolution of the EB 29. Jan W Anderson had the opportunity to carry out a test flight and found it to be close to an optimal combination of the latest construction methods and knowledge of wing profiles, with an extreme gliding performance that fully matches short wing Open Class gliders, while keeping all the known benefits of long wings intact.
Having 'jumped out of his glider' a few years back, G Dale had a jaded view of gaggle flying. Competing in the Club Class of the Europeans held in the Czech Republic, G realised that despite how you feel about flying in the gaggle you won't do well unless you start enjoying it. And so he learned to stop worrying and to love the gaggle. Steve Jones and Gary Coppin, flying in the 20m Class, came home with a Silver medal.
If becoming the next champion is still a distant dream, or you would just like to build up the confidence to leave the airfield, this issue's Ask the Coach feature looks at what clubs are doing to provide the training and support necessary to help bridge the post-solo 'black hole'. Going solo is just the first step and more people would continue if they became aware of the fun, delights and rewards of sustained soaring and cross-country flights.
Also in this issue: Peter F Selinger gives an overview of glider construction in the southwest of Germany from the beginnings to today. Jill Harmer introduces a report from Competition Enterprise. Katharine York explains how the Lincolnshire GC High Flying Girls initiative is ticking all the right boxes. Ebenezer Grimshaw breaks taboos, dispels myths and restores reality for newbies. Andrew Jarvis and Nick Newton report from the 45th VGC International Rally. Bob Jones explains why he believes power pilots have special needs that need to be better addressed when converting to flying gliders. BGA development officer Alison Randle looks at the results from a club volunteering survey.  Jago Roberts-Coyne reflects on the achievement of two pilots with half a century between them. Chris Basham reports on celebrating 25 years at The Park. Paul Kerman describes his traffic light solution to prevent potential runway incursions. Pete Stratten highlights good practices to maintain your pride and joy. And there are many more of your stunning images in the Gallery pages.
Fly safely and have fun
Susan Newby
Editor, Sailplane & Gliding
Czech lessons
G Dale reflects on competing in the Club Class of the Europeans held in the Czech Republic, and how he learned to stop worrying and love the gaggle
Transitioning: part 1
How can clubs provide the training and support that is necessary to help bridge the post-solo 'black hole'? Tony Cronshaw asks leading coaches John McCullagh and Kevin Atkinson
Past pioneers
Peter F Selinger gives an overview of glider construction in the southwest of Germany from the beginnings to today
Enterprise is simply great
DSGC's Jill Harmer introduces a report from Competition Enterprise, held this year at North Hill
Pilots like me: encouraging diversity in gliding
Katharine York explains how the Lincolnshire GC High Flying Girls initiative is ticking all the right boxes
What they didn't tell you – advisory 2: spotting instructors
Questions ab initios want to ask… but never dare to! Ebenezer Grimshaw breaks taboos, dispels myths and restores reality for newbies
EB 29R – flown by champions
Binder's newest evolution of the Open Class wonder EB 29 is the EB 29R, flown recently in the Lasham Europeans by new Open Class champion Michael Sommer. Danish Open Class pilot Jan W Andersen had the opportunity to carry out a test flight
Lasham 2017 European Championships
Werner Stroud reports from this international competition, hosted in the UK, which saw Team GB secure six medals
The heat's on
Andrew Jarvis and Nick Newton report from the 45th VGC International Rally, held this year in Dunaújváros, Hungary
Conversion of power pilots
Bob Jones explains why he believes power pilots have special needs that need to be better understood and addressed when they are converting to flying gliders
Green light for launch safety
Paul Kerman's traffic light solution aims to prevent potential runway incursions at Lincolnshire GC
Stay on top of maintenance
BGA Chief Executive Pete Stratten highlights good practices for maintaining your pride and joy
Also in this issue:
BGA news; Gliding Gallery; Club Gallery; Club Focus – Edensoaring; development news; club news; obituaries; BGA badges; instructor ratings; incident and accident summaries
Subscribe by direct debit now to save 50% on your subscription
Subscribe Now