October – November 2018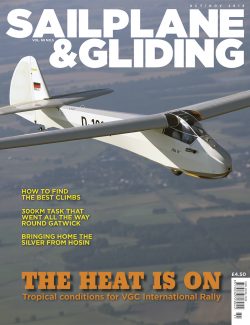 They said it couldn't be done, but Mark Kidd bags a first with a flight all round Gatwick. Read about this and more Epic Thursday flights in the Oct/Nov issue of S&G. There are top tips on how to find the best climbs, plus news from the recent Worlds. The cover has a vintage feel with one of the stunning photographs taken at this year's VGC International Rally.
Over the years, discussions on achieving a distance leg by flying around Gatwick's Class D airspace have rejected the task as too difficult given height and airspace restrictions. With ideal weather conditions on 21 June, Mark Kidd decided to give it a go and achieved an impressive flight of 300km all the way round Gatwick.
Other Epic Thursday flights featuring in this issue include Sant Cervante's 1,554km from Portmoak, flying for over 15 hours, and Craig Lowrie setting a new record with the first 800km flight from Parham.
If you want to achieve more efficient and faster cross-country flights, don't miss the latest Aim Higher Coaching article. Tony Cronshaw asks coach Kevin Atkinson about techniques for reading a cumulus sky to find stronger climbs.
Team GB brought home a Silver in the 20m Class at the Czech Republic Worlds. Andy Davis was competing in the Open Class and tells us about his experience of the competition, while Graham Garnett provides a team captain's perspective. There's also a report from the Worlds in Poland from team captain Werner Stroud, plus Tim Fletcher's view of competing in Ostrów.
This year's VGC International Rally was held in Stendal, Germany, amid tropical conditions. A Motor Spatz got airborne after a very long restoration, but extreme temperatures led to the engine overheating. At launch point, a mega-thermal tore the rudder off a Bergfalke, while a colossal thunderstorm blew the roof off the control tower! In spite of the weather, it was an excellent and enjoyable rally that saw Southdown GC's Andrew Jarvis taking over the role of Vintage Glider Club President.
Also in this issue: Schleicher introduces the K-21B. Poland's Sebastian Kawa asks if it's time for the IGC to consider new competition rules. Daniel Weston reports on his first competition, taking part in the Saltby Open aerobatic comp. Joey Beard reflects on the trials and tribulations of bringing a flying epic to the silver screen. Cris Emson continues our series of landouts from heaven or hell. Simon Jones reflects on the joys of evening flying at Lasham. Ebenezer Grimshaw breaks taboos, dispels myths and restores reality for newbies. Alison Randle continue to explore the benefits of bite-sized gliding. Pete Stratten explains the next steps for the BGA and EASA rules. Dave Latimer explains how the BGA Executive works. Plus, many more of your stunning images in the Gallery pages.
Fly safely and have fun
Susan Newby
Editor, Sailplane & Gliding
Read cu and find the best climbs
Tony Cronshaw talks to Aim Higher lead coach Kevin Atkinson about techniques for reading a cumulus sky to find the stronger climbs needed for efficient and fast cross-country flights
Click here to read the full article The Thermal Day Part 2, from S&G Aug/Sept 16
300km from Kenley: all the way round Gatwick
Mark Kidd enjoys a trip to the seaside on Epic Thursday and bags a first from Surrey Hills
Make the most of a good day
Santiago Cervantes reports on a 'nutty, but brilliant' day flying 1,554km over 15 hours on 21 June
Southdown's new record
Craig Lowrie breaks the 800km barrier from Parham with a flight on 21 June lasting 10 hours
Now is time to change rules
With some flights in the Ostrów Worlds being described as 'Kawa Guided Tours', Sebastian Kawa asks is it time for the IGC to consider new competition rules?
Consistency is key for aeros
Daniel Weston experiences his first aerobatic competition at the 2018 Saltby Open
Airborne: the making of a movie
UK Junior Gliding's media producer Joanna (Joey) Beard, who flies at Nympsfield, reports on the trials and tribulations of bringing a flying epic to the silver screen
2018 Worlds: Poland
Team captain Werner Stroud reports from Ostrów
2018 Worlds: Hosin
Andy Davis gives a personal view from the Open Class at the Worlds in the Czech Republic, while Graham Garnett provides a team captain's perspective
The heat is on
Tropical conditions were overcome in Stendal, Germany, for the VGC's 46th International Rally. Andrew Jarvis reports
Rendezvous
VGC meets at Anklam in the build-up to the international rally, reports Andrew Jarvis
When the police come knocking
Continuing S&G's new series of your 'landouts from heaven or hell' tales, Cris Emson offers a sensible suggestion
Mondays at sunset
Simon Jones reflects on the joys of flying with Lasham's Monday evening group
What they didn't tell you – advisory 8: gliding's darkest secret
Grimshaw's painful quest to restore reality with yet another cautionary tale for newbies
Regulation, the BGA and Brexit
Pete Stratten explains the next steps for the BGA and EASA rules
BGA Executive: how it works
Dave Latimer explains how the BGA Executive oversees all aspects of gliding to ensure the sport is run in an appropriate way
Also in this issue:
BGA news; your letters; Gliding Gallery; Club Gallery; Club Focus – Husbands Bosworth; development news; club news; BGA badges; instructor ratings; obituaries; incident and accident summaries
Subscribe by direct debit now to save 50% on your subscription
Subscribe Now