October-November 2019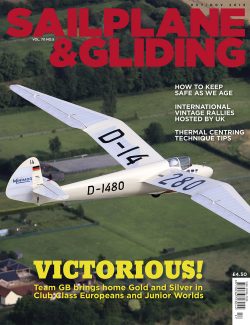 Team GB brought home an impressive haul of international medals this summer. Read about our champions in the Oct/Nov issue of S&G, where you can also find out how to improve your thermal centring techniques (to become the next world champion?). The VGC held its International Rally and Rendezvous in the UK – see the report and stunning photographs. If you are feeling vintage yourself, don't miss the valuable advice on keeping safe as we age.
It was a summer of success with the UK winning Club Class Gold and Silver medals in the Europeans and the Junior Worlds. These followed the earlier Silver medals won by Steve Jones and Garry Coppin in the 20m Class in Hungary. G Dale explains how consistent team flying by Team GB wore the opposition down in the Club Class at the Slovakia Europeans. The UK juniors share their most memorable moments and lessons learnt during the Worlds in Hungary.
If you want to improve your thermal centring techniques to world class standards, or just to improve your cross-country flying, there's another useful article from the Aim Higher team. Ask experienced pilots how they centre thermals and you will hear many different answers, confusingly including advice to 'dig the wing into the surge' or 'open out in the surge'. Do all roads lead to Rome when it comes to thermal centring techniques? Tony Cronshaw finds the answers from Kevin Atkinson.
The Vintage Glider Club returned to its birthplace, Hus Bos, for this year's Rendezvous. The 18m and 20m Nationals were still in progress, but there was a successful transition from goals measured in hundreds of km to the vintage business of "staying up for 20 minutes if you're lucky!". The event was followed by the VGC International Rally, held at Tibenham for the third time. The skies were filled with a variety of colourful vintage gliders, including the Canadian two-seater Harbinger 2. This beautiful glider was co-designed by Waclaw Czerwinski and Berverley Shenstone, who also co-designed the Spitfire. The feature includes some stunning photography from Alex Gilles, who also took our cover photo.
As older, wiser and more experienced pilots, we may have lost the sharpness of youth, but are we still as good as ever? BGA Medical Adviser Dr Frank Voeten says that, on the whole, the gaining of experience stands us in good stead when we get a bit slower and lose some of our edge. There is no evidence that older pilots are more likely to be involved in accidents or incidents. Experience on the roads shows that, where older drivers are involved, the severity of accidents is usually less. It is, however, important not to become complacent. Dr Voeten offers useful advice on what to look out for as we age and gives top tips on how to help yourself stay safe.
Also in this issue: BGA Chairman Andy Perkins reflects on the remarkable international achievements of Team GB. Andy Wood explains how his Shark ended up 'magically' caught in the trees. Kieron Shaw reports on RAeC Trust bursary awards. Stephen Kingham reflects on being P2 for a record-breaking flight with Ed Downham. Jon Hill explains why we should beware of big fields after a terrifying landout. David Innes 'comes out' after dropping off the duty list when the club was short of instructors, following a diagnosis of Type 2 diabetes. Damian le Roux travels to South Africa in search of an elusive 1,000km. Dan Weston reflects on a successful introduction to Advanced aeros. BGA development officer Alison Randle looks at developing club strategy. Emma Burns reports on the Inter-University Task Week. BGA Chief Executive Pete Stratten looks at airspace modernisation. Mike Armstrong reports from the Camphill Vintage Rally and Andrew Jarvis reports from the Long Mynd Wood Week. The BGA Safety Team looks at the implications of flying in extreme wind conditions. Plus many more of your stunning images in the Gallery pages.
Fly safely and have fun
Susan Newby
Editor, Sailplane & Gliding
Persistence pays off
Ray Fisher sent S&G a fascinating history of 611 Volunteer Gliding Squadron and of his introduction to gliding. An extract is published in this issue and you can click here to read the full article
Centring: which technique?
Tony Cronshaw asks Aim Higher's lead coach Kevin Atkinson if "all roads lead to Rome" when it comes to thermal centring techniques
Click here to read the full article Solutions to thermal centring, part 3 from S&G June/July 2017
When you can't see the Wood for the trees
Andy Wood recounts the terrifying tale of how his Shark ended up 'magically' caught in the trees after stalling
Victorious!
G Dale reports from Prievidza, where he and Tom Arscott won Gold and Silver for the UK flying in the Club Class
Juniors on top of the world
Team GB shares highlights from Hungary, which gave us a new world champion
Keeping safe as pilots age
BGA Medical Adviser Dr Frank Voeten advises that, although there is no evidence that older pilots are more likely to be involved in accidents, it is important to avoid becoming complacent
Helping youth progression
RAeC Trust trustee Kieron Shaw reports on bursary awards
View to a thrill
If you're P2 in EB28 '13', what better time than with Ed Downham during a record-breaking flight? Stephen Kingham reports
Beware big fields
Jon Hill reflects on an enterprising landout that could well have ended in disaster when his chosen field revealed a hazard, in our latest 'landout from heaven or hell' tale
Flying after diabetes…
Dropping off the duty list when the club was short of instructors prompted David Innes to come out when he was diagnosed with Type 2 diabetes
Happy returns
The VGC 47th International Rally and its Rendezvous returned to the UK for unforgettable gatherings at Tibenham and Husbands Bosworth, reports VGC President Andrew Jarvis
Going after the big one
Damian le Roux travels to South Africa in search of the weather conditions to help achieve an elusive 1,000km
Taking aeros to next level
Dan Weston reflects on a successful introduction to the Advanced category at the Saltby Open
Uni clubs compete
Emma Burns reports on the Inter-University Task Week, held at Saltby
Strategy does not meet needs
BGA CEO Pete Stratten takes a look at airspace modernisation
The effects of wind gradient
Flying in strong winds can be inspiring, but the BGA Safety Team looks at the implications of flying in extreme wind conditions
Also in this issue:
BGA news; opinion; your letters; Gliding Gallery; Club Gallery; Club Focus – Buckminster; development news; news; BGA badges; instructor ratings; obituaries; incident and accident summaries; AAIB bulletin
Subscribe by direct debit now to save 50% on your subscription
Subscribe Now